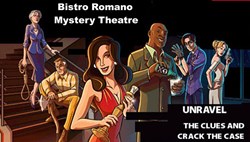 The Mystery Dinner Theater is an exciting and fulfilling experience delivered by Bistro Romano. It creates an atmosphere different from the usual dining experience.
(PRWEB) February 22, 2014
Located in the historic Society Hill, Bistro Romano hosts the "Mystery Dinner Theater: Crime of Your Life" from February 28 to March 29 on Friday and Saturday nights. Providing a unique twist to Italian dining, an evening at the bistro begins with actors bringing to life hilarious and engaging personalities in a murder case that will leave the audience baffled.
Bistro Romano has had a long history as the premier Italian restaurant and bar in Philadelphia, serving as a unique venue for both casual and fine dining.
"It's exciting to be able to bring back the new season for 2014 with such a great cast and dynamic group of entertainers," said Michael Granato, Manager at Bistro Romano.
According to Granato, deciphering codes, uncovering mysteries, and solving crimes are all part of evening's fun.
As the unique and exciting drama unfolds, the plot thickens. The audience will get to know more about each of the character's personality and take a calculated guesses on the prime suspects. The night is expected to end with audience cracking the mystery and getting their detective minds to work through all the clues until murderer is found.
As participants partake in the Mystery Dinner Theater, diners will enjoy a four-course menu featuring hors d'oeuvre, Bistro Romano's Award-Winning Classic Caesar Salad and a selection of authentic Italian cuisine to choose from. Tickets are priced at $45.95 per person.
The 2014 new season of The Mystery Dinner Theater creates an atmosphere different from the usual dining experience.
"We've been serving distinctive Italian cuisine for close to three decades and the Mystery Dinner Theater has its own personality that must be experienced," added Granato. "[Bistro Romano] is the perfect place to take your first date and equally welcoming for social occasions."
Further showcasing the restaurant's accolades, Bistro Romano was recipient of OpenTable's Diner's Choice Award in 2012 and 2014. It also earned it the Best of Award of Excellence for 2012 and 2013, by Wine Spectator.
For tickets and reservations to the Mystery Dinner Theater, please visit http://www.bistroromano.com/mystery-theatre or call 215-238-1313.
ABOUT
Bistro Romano is a popular restaurant in Philadelphia known for its wide range of Italian dishes and fine wines that bring together old world quality and simplicity with new world innovation. In addition to the full service bar and restaurant, the bistro holds the hosts the Mystery Dinner Theater.