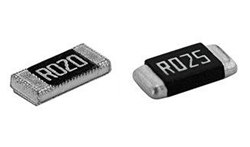 We've seen a very enthusiastic response from customers and are happy to continue to provide a broad and ever-expanding selection of Surface Mount Components
Austin, TX (PRWEB) February 25, 2014
Venkel, the Austin, Texas-based supplier of Surface Mount Components, has introduced two new Current Sense Resistor products to complement its existing offerings. Current Sense Metal Strip Resistors (CSMS Series) and Current Sense Metal Foil Resistors (CSMF Series) have been added to the lineup, meaning the company now offers four different series of the specialty resistive products. Both products have direct crosses to most major manufacturers.
Current sense resistors are able to accurately monitor the flow in and out of circuits due to their very low ohmic values and are ideally suited for precision circuitry due to the their very low and stable Temperature Coefficient of Resistance (TCR). The resistors are ideal for power management systems, safety systems, DC-DC converters and related applications.
The Current Sense Metal Strip Resistors (CSMS) help provide higher power ratings than standard current sense or thick film resistors and offer a wide range of values. The resistors offer relatively easy design integration and a low cost solution for circuit designers. They can save space and board cost by replacing larger components or multiple components such as resistors in parallel. Values start as low as 1mΩ and go up to 100mΩ.
The Current Sense Metal Foil Resistors (CSMF) can replace more expensive devices such as hall-effect sensors, magnetoresistive sensors, and current transformers to get this accomplished. They offer good performance and high reliability over the entire operating temperature range with higher power ratings in small case sizes (0603) than comparable standard current sense resistors. A foil deposited on the alumina is used to enhance TCR. Values start at 10mΩ and go up to 100mΩ .
"We're very pleased to be able to make available two additional Current Sense Resistor products, bringing the total to four distinct resistive products of this type. In particular these two new products fill a need with a resistance range starting at 1mΩ (CSMS) and TCR as low as 50ppm (CSMF). We've seen a very enthusiastic response from customers and are happy to continue to provide a broad and ever-expanding selection of Surface Mount Components", remarked Anil Venkatrao, President.
Prototype to production quantities are immediately available, as well as free samples. Visit venkel.com or call 800-950-8365.
About Venkel Ltd.
Venkel Ltd. offers a complete line of Surface Mount Components including Capacitors, Resistors, Inductors, Ferrite Beads, Thermistors, Choke Coils and Resistor Networks. Founded in 1986, the privately-held, family-operated company provides components in prototype-to-production quantities as well as Supply Chain Management Services to OEMs, Contract Manufacturers, Distributors and Engineering Firms. Venkel is headquartered in Austin, TX USA. For more information about Venkel please visit http://www.venkel.com or call 800-950-8365.