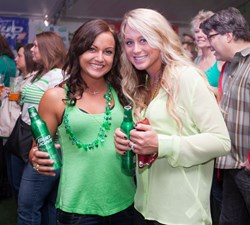 Columbus, Ohio (PRWEB) February 20, 2014
Starting March 1, Fadó Irish Pub in Columbus continues its annual St Patrick's Day tradition by delivering yet again the definitive 2014 Paddy's Day celebration with traditional Irish food, live music, Irish dancers, charity fundraisers, and, of course, drinking Guinness and fantastic Irish whiskey.
This year the first of two outdoor events begins on March 15 and doors open early for European sports, including English Premier League, and a "beer and brekkie" (a pint and an Irish Breakfast). The party continues until March 17 featuring a full line up of Irish Dancers, traditional bag pipers, live music, multiple food tents and drink stations. New this year is a Tullamore Dew signature cocktail, called "The Paddy's Punch", as well as a signature serve "Flexible Flask!" The flask will be prefilled with the cocktail and set up at stations or hand sold by wait staff throughout the day. "Party like a Paddy" never sounded more right!
Fadó Irish Pub in Columbus has become a St Patrick's Day institution and the staff and management at the pub invite you to "commit yourself" and buy your tickets today.
Here's what to expect at the biggest St. Paddy's celebration in Columbus:
Leary Foundation Guest Bartender Event, Thursday, March 6 from 6 p.m. to 9 p.m. - A fantastic community event to benefit local firefighters who will get behind the bar and pull pints for tips!
Super Paddy's Day Pub Quiz with Mark Dantzer, Monday, March 10 at 8 p.m. - Great Prizes and giveaways all night! Free to play and new teams always welcome.
Shamrock Club Guest Bartender and Ladies of Longford Celtic Music, Tuesday, March 11 from 7 p.m. until 10 p.m. This annual event benefits the Shamrock Club and is a great community event with traditional Irish Music all night. No cover.
Guinness Perfect Pint Contest, Wednesday, March 12 at 7 p.m. - We all love Guinness but only a proud few have what it takes to pour a perfect pint! Enter and win great prizes and bragging rights!
Jameson Family of Irish Whiskies Chef's Dinner, Thursday, March 13 at 7 p.m. Reservations for the first 35 people. $40/person. Already sold out!
Live Music with Hat Trick, Friday, March 14 at 9 p.m. No Cover.
St Practice Day Outdoor Festivities, including annual St Baldrick's Charity Event; Saturday, March 15 Doors open inside at 7:30 a.m. for European sports, English Premier League. Full pub menu available all day. Gates open to the massive outdoor heated tent party at 10 a.m. and party goers can expect multiple food, beer and cocktail stations, featuring the new Tullamore Dew signature cocktail; "The Paddys Punch." The Irwin Academy of Irish Dance perform at 2:30 p.m. and the Millennium Academy of Irish Dance to perform at 6.30 p.m. Live Music is from 3 p.m. to 1 a.m., including The Menus at 9 p.m.
The 10th Annual St Baldrick's Charity Event from 10 a.m. to 2 p.m., is a head-shaving event where the community raises money and awareness to help fight children's cancer. Fun Fact: "craic" is an Irish term meaning good times". So we like to always say that this event is "great craic for a great cause". Over 70 shavees have signed up so far to help beat the $45,000 goal this year. Go here and find out how you can participate or to donate.
$10 cover on the door begins at 4 p.m. on Saturday, March 15.
$7 for Advance tickets. On sale now!
2 day tickets also available for $20
Trad Sunday, March 16 - Doors open early inside with European sports, featuring Liverpool v Manchester United 9.30 a.m. and Arsenal v Tottenham. Brunch menu available until 2 p.m. and full menu, including Traditional Irish food, available all day.
Special Private Event with "Tinder Box" at 2 p.m. in the outdoor heated tent. Reservations required. General admission begins at 3:30 p.m. Tickets are $99 and include ten cigars and four beverage samples. Dinner served at 4 p.m. Stop by Tinder Box Easton for details.
St Patricks Day, Monday, March 17 - Doors open at 7 a.m. for "Kegs and Eggs" and from 8 a.m. to 10 a.m. $5 cover includes breakfast! Full menu available after 10 a.m.. Live music begins at 8 a.m. with Ladies of Longford, Dublin Silver Band at 11 a.m., Naked Karate Girls at noon, and Cyril Scott Band at 3 p.m., and 1988, the Band at 3:30 p.m. The Irwin Academy of Irish Dance performs at 3:45 p.m. The Reaganomics hit the stage at 6:30 p.m. and Blood, Sweat, Beers start at 9:30 p.m.
$5 until 10 a.m. and $10 cover on the door after 10 a.m.
$7 advance one day tickets.
$12 for two day passes available on-line now.
21+ only after 5pm.
About Fadó Irish Pub
Fadó (pronounced fuh-doe) Irish Pub was the first Irish pub to be designed and constructed in Ireland and shipped and installed in Easton Town Center in Columbus. Fadó is distinguished by its genuine Irish hospitality, quality of its pints and craic (pronounced 'crack', a uniquely Irish form of fun). Fadó has been voted 'Best Of' by a number of local and national publications. Fadó is an official US Soccer bar. Get more information by visiting the pub's website page, Facebook page or by following @fadocolumbus on Twitter and following the hashtag #stpatricksday2014.