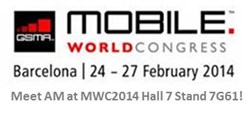 (PRWEB) February 20, 2014
Access Mobile to exhibit at Mobile World Congress 2014 in Barcelona
Showcasing cutting-edge mobile Value Added Services (VAS) and technology including Game Apps, m-Payment and Mobile AD Platform
Access Mobile, Korean mobile value added service company, and winner of Red Herring Global 2013, announced that it will be exhibiting at the Mobile World Congress 2014, which will be held in Barcelona, Spain from February 24th to February 27th (Hall 7, Stand 7G61). Access Mobile will be exhibiting its hottest smartphone games in Korea, cutting-edge social networking integrated services, mobile payment gateway and mobile Ad.
Since 2006 it had launched advanced Value Added Services such as Sticker SMS, Caller Tag, Facebook Profile Portal, RBT, and etc. in South East Asian countries such as Indonesia, India, Philippines and Malaysia, and is operating those till now. Since 2012 Access Mobile has been providing carrier billing services for LINE messenger and Kakaotalk messenger in cooperation with Indonesian mobile operators, expanding its horizon to mobile payment gateway, mobile ad, smartphone application publishing and game publishing.
Access Mobile seeks strong partnerships through this year MWC event, especially from mobile games/applications sector. The extraordinarily rapid growth of South East Asian Smartphone market gives many worldwide applications and game companies a bright forecast of their new revenue stream in the foreseeable future. Therefore, big number of international titles is ready to enter this market with their games, MIMs, and app services. However, it is true that some companies could not make their smooth landing in this market even with huge marketing budget. Access Mobile is acting as a bridge between, mobile app/game developers from other countries or from same region, and SEA mobile market.

Mobile payment gateway – connects mobile operators in SEA with smartphone mobile applications and games, digital goods
Mobile ad platform – provides new ad placement inventories for mobile operators using their existing network capacity, attracting new revenue sources, advertisers
Mobile game/application publishing and Mobile value added services for mobile operators
South East Asia and Korea market expertise is one of Access Mobile's strength for potential partners with contents, applications and technologies who want to enter this market, as well as Access Mobile is looking for international partners from America, Europe and Africa, to bring its proven services and technology to new markets from MWC 2014. Access Mobile welcomes interested companies and partners to visit and contact Access Mobile at Mobile World Congress 2014 Hall 7, Stand 7G61, February 24-27. Inquiries to sales(at)access-mobile(dot)com.
About Access Mobile
Access Mobile is a Korean Mobile VAS company providing smartphone games, app services, social networking integrated services, mobile payment gateway, m-Commerce and mobile Ad enabler based in Asia Pacific region such as Indonesia, Malaysia, Philippines, India covering Thailand and Singapore. Access Mobile recently has more than 120 experienced professional employees in 5 countries. Access Mobile has been selected as a Winner of Red Herring Global 2013, Korea IT CEO and Korea Top Exporter Award Winner in 2013.