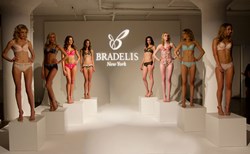 New York, NY (PRWEB) February 21, 2014
Java Monster partnered with Lingerie Fashion Week® today for a three-day fashion event that features Fall | Winter 2014 collections, and hosted a bar lounge to offer guests a place to recharge and hang out at this exclusive event.
Lingerie Fashion Week®, the first Fashion Week worldwide exclusively created for intimate apparel brands, entered its third season with an exciting roster of domestic and international designers hosted in a new venue at the Canoe Studios. The invitation-only shows will take the stage via Runway, Presentation or Special Exhibition and will continue tomorrow and on Saturday, February 22.
Invited guests enjoyed their favorite Java Monster drink in the Java Monster lounge. Featured drinks included: Mean Bean, Loca Moca, Kona Blend, Vanilla Light, Irish Blend, and Toffee topped with a little whipped cream in Java Monster's cool bar space at the Canoe Studios which houses 20,000+ square feet of studio space and features wraparound views of the Hudson River, offering ample space for runway shows and presentations.
Guests included Java Monster models, fashion VIPs, media, and influencers. The runway show and presentation was by Bradelis NY, which involves custom fit lingerie offering luxury lingerie for everyday wear, combining the best of American function with Japanese craftsmanship.
Lingerie Fashion Week® hosts exclusive events and runway shows featuring independent designers, emerging brands and creative tastemakers. Headquartered at the Canoe Studios, which is housed within the prestigious Starrett-Lehigh Building at 601 West 26th Street, a creative landmark located in the heart of Manhattan's gallery district.
Java Monster will post throughout the entire event. Complete information on the designers, program schedule and sponsors can be found at the official website at http://www.lingeriefashionweek.com.
About Java Monster:
Based in Corona, California, Java Monster is coffee done the Monster way. Java Monster's premium coffee and cream offers the perfect mix of ingredients. Brewed with killer flavor and supercharged with the Monster Energy blend, Java Monster gives you half the caffeine of regular coffee and twice the buzz. Java Monster Personalities include Mean Bean, Loca Moca, Kona Blend, Vanilla Light, Irish Blend and Toffee; all created to satisfy whatever mood suits your lifestyle. See more about Monster Beverage Corporation including all of its drinks at http://www.monsterenergy.com.
About Lingerie Fashion Week®
The first Fashion Week worldwide exclusively created for intimate apparel brands, Lingerie Fashion Week® presents a progressive events marketing platform merging the lingerie, fashion and creative communities. Representing a $14 billion and rapidly growing market segment (in the U.S. alone), the multi-day event presents an exciting industry hub designed to shed a powerful spotlight on both intimates designers and the industry as a whole. Each biannual season features a mix of emerging and established intimate apparel brands from around the world, comprised of lingerie, loungewear, sleepwear, shapewear, hosiery/legwear, lingerie solutions and lingerie accessories. The event debuted in February 2013 to a result of over 900+ million total media impressions to date, attended by domestic and international press, retailers, fashion and intimates industry influencers, stylists, creative tastemakers, and VIPs; reaching audiences from North & South America to Europe and Asia. For more, please visit: http://www.lingeriefashionweek.com