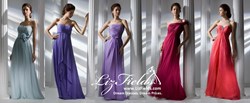 Liz Fields is now offering bridesmaid dresses, bridal gowns, and prom dresses in sizes 0-28, ensuring that every bride and her closest friends can feel special and chic on her special day
Los Angeles, California (PRWEB) February 21, 2014
When a bride begins to plan her wedding, there are many elements to consider. There is picking the perfect location, photographer and caterer to consider… but finding the perfect wedding gown and bridesmaid dresses – that stay on budget – can be one of the most challenging parts. The gown makes the statement that everyone remembers, and the dresses donned by a bride's closest girlfriends, make the first appearance down the aisle at the ceremony.
Finding bridal gowns and bridesmaid dresses that are stylish, elegant, and affordable does not have to be difficult. It is possible for brides to stay on budget and find the most perfect gowns. Designer Liz Fields is the sought after label for women seeking luxury and sophistication in their wedding dresses and bridesmaids dresses. Liz Fields strives to create dresses that are elegant, stylish and affordable. Since launching, the designer has created dream gowns for brides and bridesmaids nationwide.
Each gown created by Liz Fields is designed for every woman in mind. All wedding dresses, special occasion gowns, and bridesmaid dresses are available in sizes 0-28. This guarantees that every bride and bridesmaid can feel beautiful at any size. The premier gown destination also offers maternity styling. These dresses offer support and flatter the maternity figure. All dresses are made to order, so each bride can have confidence in each purchase. Authorized retailers will measure and order dresses, that will be specially created for each unique wedding party. All gowns are made with the highest quality and care, creating the best fit in the industry and are all priced between 140 dollars and 220 dollars. These affordable and stunning dresses come in over 900 customizable color combinations, modesty options and luxurious fabric options. Liz Fields dresses have also been featured in many bridal magazines including: Bridal Guide, Wedding Bells, Destination I Do, and The Knot, among others.
Spring 2014 samples are in stores now. Designs are sold throughout the United States, Alaska, Hawaii, Puerto Rico, U.S. Virgin Islands, Canada, United Kingdom, Brazil, and Australia.
For more information log on to: http://www.lizfields.com