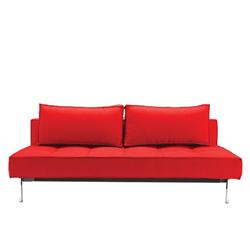 Home to the World's Best Sofa Beds
Ottawa, Ontario (PRWEB) February 24, 2014
Finally, comfortable sofa beds are here. Thanks to a unique patented system designed by renowned Danish designer Per Weiss, The Sofa Bed Store™ will now be able to provide North Americans with a level of comfort that has never been felt in a sofa bed. The premium sleep system paired with the patented fold-away mechanism assures that even "sight-unseen" customers are pleased with their purchases. All of the sofa beds come apart easily to make the trip through any tight space or awkward stairwell, also thanks to the unique design. In fact, one of the largest queen sized sofa beds, the Movie Night Sofa Bed, is one of the easiest to move in and out of tight spaces.
The Sofa Bed Store™ was created to offer customers a better choice when shopping for a sofa bed. "Formal guest rooms are a thing of the past," says owner James Flynn."Our customers are space conscious... leaving a (guest) room empty for 90 percent of the year just doesn't make any sense. A comfortable, functional sofa bed is the solution they've been looking for - and this mechanism allows for a level of comfort otherwise unattainable by North American manufacturers."
Customers interested in learning more about The Sofa Bed Store™ and all of their products should visit http://www.thesofabedstore.com or call customer support at 1-866-740-8309.