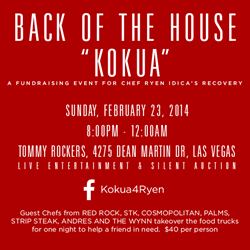 Live Big Give Big - Alan Semsar
Las Vegas, Nevada (PRWEB) February 21, 2014
Organizers have announced a special benefit will be held this Sunday at Tommy Rockers in order to raise funds for Ryen in his time of need. Last December Ryen suffered a stroke and Barcelona LA's goal is to help him and his family during this significantly trying time. Organizers and chefs from participating restaurants will donate their time and services so that the maximum amount raised goes directly to supporting Ryen. All of the proceeds from the event will go to Ryen and will be used to help pay his medical bills and continued care expenses.
Barcelona Enterprises CEO Alan Semsar noted that "Hundreds of thousands of people are affected by strokes every year, and those who survive are often left facing a mountain of medical bills and continued care costs. Ryen is a fighter and we want to do everything we can to let him know that he is not alone in this battle. We will continue to support him in every way that we can. This benefit is just the beginning."

Date: Sunday Feb 23, 2014
Time: 8 p.m. - midnight
Location: Tommy Rockers 4275 Dean Martin Drive, Las Vegas.
Why: Fund-raising event to help defray the costs of Ryen Idica's continued health care after his stroke on 12/08/2013.
Participating: Red Rock, STK, Cosmopolitan, Palms, Strip Steak, Andreas, and the Wynn.