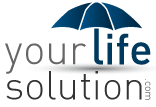 When I was in my early 20's, I bought whole life insurance because it made sense to pay a bit more to have a lifelong guarantee rather than having to look for a new option in my 50's
Chicago, IL (PRWEB) February 22, 2014
YourLifeSolution.com, a service which allows consumers to compare life insurance products objectively online, has just developed a section of their website dedicated to whole life insurance. Most life insurance quote websites do not provide whole life insurance quotes or even acknowledge whole life insurance as an available product. Eric Smith, the founder of YourLifeSolution.com, believes that this because whole life insurance quotes are harder to explain to a consumer and it's a product that has been pushed aside due to it's apparent complexity. "There are those, namely Suze Orman and Dave Ramsey, who said that whole life isn't a worthwhile product. They base this on a false equivalency and fail to measure in any way the net present value of a guaranteed rate for life versus a policy designed to be temporary. This isn't to say the buying term life insurance and investing the difference is merit-less, but it certainly is not the best option for someone like myself. When I was in my early 20's, I bought whole life insurance because it made sense to pay a bit more to have a lifelong guarantee rather than having to look for a new option in my 50's. Also, if I ever decided I no longer needed my coverage years from now, I could easily cash in the policy and walk away with more than I put into it", said Eric Smith.
The whole life insurance quote request section of YourLifeSolution.com is located at this link:
http://yourlifesolution.com/lifeinsurancequotes/whole-life-insurance-quotes-request-form/
Customers interested in learning more about permanent or term life insurance options are encouraged to visit YourLifeSolution, or to call Eric Smith at 888.374.2764.