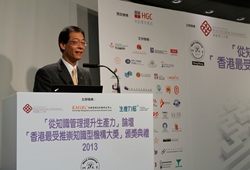 Enterprises, organizations, communities and individuals should turn knowledge into valuable resources to maintain productivity.
(PRWEB) February 26, 2014
The Knowledge Management and Innovation Research Centre (KMIRC) of The Hong Kong Polytechnic University (PolyU) has successfully run the Most Admired Knowledge Enterprise (MAKE) Award in Hong Kong for six years. This Award aims to promote the best practices in knowledge management (KM) among local enterprises and provide them with a platform to benchmark their KM performance, raising the KM level of the industry.
This year's MAKE Award Presentation Ceremony was held at the Hong Kong Productivity Council (HKPC) on 21 February 2014. The event has won the support of government officials, business leaders as well as over 100 professional, business and industrial associations. Officiated at the ceremony were Mr Daniel Lai, Government Chief Information Officer; Professor Timothy W. Tong, President of PolyU; and Mr Clement Chen, Chairman of HKPC.
Mr Lai stressed that the HKSAR Government has placed much emphasis on and supported the promotion of KM. Not only did government departments implement KM, many had received the Hong Kong MAKE Awards over the past years. Speaking at the ceremony, Professor Tong said, "The World Bank has launched the Knowledge Index to measure a country's or region's ability to generate, adopt and diffuse knowledge. Enterprises, organizations, communities and individuals should follow this direction and turn knowledge into valuable resources to maintain productivity, competitiveness and sustainability in order to achieve excellence in today's knowledge economy."
On the significance of KM as a business strategy, Mr Chen said, "Comprehensive KM is the key to success for modern enterprises. However, most SMEs are not familiar with this topic. HKPC is collaborating with PolyU this year to launch a SME-specific KM standard to help businesses understand and implement KM to enhance creativity."
All winning organizations demonstrated outstanding KM achievements. It was the first year for Hong Kong and Chinese mainland organizations to win the international MAKE Award. In particular, the Hong Kong Police Force was the first Hong Kong organization and the first HKSAR Government department to receive the 2013 Global MAKE Award. Other winning enterprises included Arup; CCC Heep Woh College; Ernst & Young, HK; GP Batteries International Limited; and The Hong Kong and China Gas Co. Ltd.
A forum on "Raising Productivity through Knowledge Management" jointly organized by KMIRC and HKPC was held after the ceremony. MAKE Award winning organizations including China Merchant Securities, the first Chinese mainland organization to be awarded the Global MAKE Award 2013, shared their KM experience with the audience. In addition, KMIRC and HKPC introduced a new joint programme with an aim to promoting the application of KM among local SMEs.
The Global MAKE award is an international benchmark of best practice knowledge management. It was launched in 1998 by KNOW Network, an international web-based professional knowledge sharing network and Teleos, a research firm specializing in knowledge management. Since 2008, the MAKE Award has been introduced in Hong Kong and Chinese mainland by the PolyU Knowledge Management and Innovation Research Centre. KMIRC and HKPC will join hands next year to organize the Asian MAKE Award Presentation Ceremony to further promote KM.