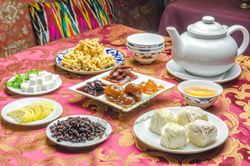 'We were so happy to have the cast and crew of The Americans in Nargis Cafe,' says Chef Big B.
Brooklyn, New York (PRWEB) February 23, 2014
Nargis Café has been a staple for Central Asian cuisine in the Brooklyn area for years, but is now happy to welcome Hollywood into their doors! That's right, FX's new hit show The Americans filmed scenes on location at the Nargis Café. The episode is expected to air on February 26th. Nargis Café has already been featured in the Village Voice and on the Cooking Channel. Fans of The Americans surely won't be disappointed in their favorite characters' choice of fine cuisine.
The Americans first aired in 2013 on the FX network. Season 1 received high ratings and was quickly renewed for a second season set to premiere this year on February 26th. The Americans stars Elizabeth (played by the beautiful, talented Keri Russell) and Phillip (played by brilliant heart throb Matt Rhys) as Soviet spies who pretend to be married in order to collect information on the United States of America. The show succeeds as a thriller with comedic elements that come along with maintaining any relationship; fake or real. The couple's two children escalate the storyline as they grow more suspicious of their parents' secret lives each day. The first season is available for purchase on Amazon.
The Americans production team announced the decision to film at Nargis Cafe in 2013. The Nargis Café was honored to open their doors to the show. "You know you have an authentic central Asian restaurant when a great show about cold-war spies wants to film in your restaurant," beamed Chef Big B. "We were so happy to have the cast and crew enjoy our cuisine while they worked, and we welcome them back any time," he continued.
Amazing service and delicious food makes the Nargis Café one of the best restaurants on Brooklyn. Media call the cafe - Brooklyn's famous. The Nargis Café deliciously celebrates Central Asian, Uzbek culture in tradition, atmosphere, and, most famously, cuisine! The variety is outstanding. The ingredients are of the highest quality. The Nargis Café boasts most proudly of a menu item promised to turn first time visitors into lifetime regulars – The Manti (melt in your mouth meat dumplings that are served your choice of pan fried or steamed). Other "hot" dishes to try are the rare delicacy Bojon salad (eggplant puree and fresh garlic), Pilov with tender lamb meat, and the hearty lagman (diced meat, vegetables and homemade noodles). Whether you grew up with exposure to Uzbek Cuisine or have an adventurous palate that loves new, exotic foods, Nargis Café is where you want to be.
The Village Voice called Nargis Café's grilled trout "unstintingly fresh," "of mutant size," and "crackling and succulent" after complimenting Chef Big B for cooking the fish whole. The Cooking Channel featured the lagman soup (described above) on The Culinary Adventures of Baron Ambrosia; Episode "Scent of a Baron." Tune in to FX on (air date) to see what goes down in Nargis Café's unique environment when they are invaded by The Americans.
About the Nargis Café
New York's best Central Asian restaurant was established in 2007 by our chef and owner Big B. Since then, the Nargis Café has become a staple for New Yorkers and international visitors alike and has garnered consistent acclaim from New York's restaurant critics. Once, the Nargis Café was Brooklyn's best-kept secret—now we are a destination for foodies the world over. When you walk through the doors, you are immediately exposed to the best of central Asian cuisine and culture in our dining room's cozy, elegant ambience. Experience fresh, authentic central Asian cuisine - Nargis Café.
Big B, Chef and Founder
The Nargis Café
2818 Coney Island Avenue
Brooklyn, NY 11235