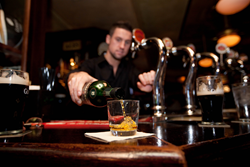 Chicago, Illinois (PRWEB) February 23, 2014
Fado Irish Pub in River North continues its tradition this March of delivering Chicagoan's, the definitive 2014 Paddy's Day celebration with traditional Irish food, charity fundraisers, live music, themed events, bagpipers, and, of course, Guinness and fantastic Irish whiskey
Every aspect of the St. Patrick's Day festivities, which last all month-long, are focused on providing an over-the-top - yet authentic - Irish experience. European sports are featured, including 6 Nations Rugby, English Premier League, as well as special whiskey dinner, live music, Pub Quiz and more. "Party like a Paddy" never sounded more right.
Fadó, the best St Patrick's Day party in the River North neighborhood, is a St Patrick's Day institution and the staff and management at the pub invite you to "commit yourself" to a day of unequaled partying.
Here's what to expect during the St. Paddy's celebration at Fadó in Chicago:
Live Music with Hooked on Sonics, Saturday, March 8 at 11 p.m. - Our DJ playing "cracking" pub tunes downstairs and the band to perform upstairs. No cover.
Trad Sunday with Special Irish Pub Film Screening and Director Q&A, Sunday March 9 at 7 p.m. - The Irish Pub Film is a eulogy of sorts for the old time Irish pub and not to be missed. Q&A with Director: Alex Fagan, who received critical acclaim in Ireland, is scheduled to take questions directly after the screening. $10 tickets available for purchase at the pub. Limited seating. Tullamore Dew Irish Whiskey Sampling included with the price of the ticket.
Also, Sunday Trad Brunch is every week from 12 p.m. until 3 p.m. with live music from Anois.
Chicago Fireman Guest Bartender Event, Monday, March 10, from 6 p.m. to 8 p.m. - A great community event, raising money to benefit The Leary Foundation and ties-in with the Guinness Made of More campaign.
Paddy's Day Pub Quiz, featuring Guinness Costume Tee Giveaway, Wednesday, March 12 at 5 p.m. - Guinness will offer guests a free custom tee. Smithwick's and Guinness pint specials too. Quizzers should come prepared as its an all-Irish Quiz night. Free and open to the Public. $4 Carlsberg cans and $5 house wine all night. *Quizzers should also mark their calendars for Super Pub Quiz on Wednesday, March 19th with a 500 cash prize up for grabs.
St. Baldrick's Foundation Charity Event, Friday, March 14 from noon to 6 p.m. - Annual head-shaving event where the community raises money and awareness to help fight children's cancer. Over 100 shavees already registered to help beat the $250,000 goal. Fun Fact: "craic' is Irish for good times and we like to say this event is always "good craic for a good cause". Go here to learn more or to donate.
Live Music with Morgan starts at 10 p.m. No Cover.
Super Saturday/Parade Day, Saturday, March 15 - Doors open at 7 a.m. for European sports, English Premier League soccer and 6 Nations Rugby. 21+ all day. $10 cover all day. Live Music with Nappertandy from 12 p.m. to 4 p.m. and Shannon Rovers Bagpipers at 6 p.m. Diver starts at 8 p.m. until Midnight. DJ at 10 p.m. downstairs. Full brunch menu available until 11 a.m. and special "Parade Day" menu available after 11 a.m.
Trad Sunday, March 16 - Doors open early at 8:30 a.m. with European sports, featuring Liverpool v Manchester United. Full brunch menu and live traditional Irish music from Anois from noon until 3 p.m. No cover.
St Patrick's Day, Monday, March 17 - Doors open at 9 a.m. Live Music with Donnybrook from 2 p.m. until 6 p.m. and Nappertandy from 8 p.m. until midnight. Shannon Rovers Bagpipers to perform throughout. $10 cover starts at 2 p.m. 21+ after 2 p.m. Full brunch until 11 a.m. and full menu available after 11 a.m.
About Fadó Irish Pub
Fadó (pronounced fuh-doe) Irish Pub was the first Irish pub to be designed and constructed in Ireland and shipped and installed in River North. Fadó is distinguished by its genuine Irish hospitality, quality of its pints and craic (pronounced 'crack', a uniquely Irish form of fun). Fadó has been voted 'Best Of' by a number of local and national publications. Fadó is an official US Soccer bar. Get more information by visiting the pub's website page, Facebook page or by following @fadochicago on Twitter and following the hashtag #stpatricksday2014.