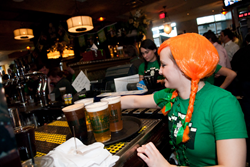 Annapolis, Maryland (PRWEB) February 23, 2014
Fado Irish Pub, located at One Park Place in Annapolis continues its tradition this March of delivering the definitive 2014 Paddy's Day celebration with traditional Irish food and charity fundraisers. European sports are featured, including 6 Nations rugby and English Premier League soccer, as well as live music, an Irish whiskey dinner, themed events, bagpipers, and, of course, Guinness and fantastic Irish whiskey. And, on March 17, once again WRNR will host "Pints and Pancakes" and giveaway a trip for two to Ireland. "Party like a Paddy" never sounded more right.
Fadó, the best St Patrick's Day party in Annapolis, is a St Patrick's Day institution and the staff and management at the pub invite you to "commit yourself" to a day of unequaled partying.
Here's what to expect during the St Patrick's Day festivities in Annapolis:
Guinness Perfect Pint Contest, Monday, March 3 at 7 p.m. We all love Guinness but only a proud few have what it takes to pour a perfect pint! Come down and watch local bars compete to see who is the best. Prizing and bragging rights at stake.
St Baldricks Charity Event Saturday, March 8, from 1 p.m. to 7 p.m. An annual head-shaving event where the community raises money and awareness to help fight children's cancer. Approximately 80 shavees already registered to help beat the $100,000 goal! It's great craic for a great cause. Go here to learn more or to donate.
Parade Day Party Headquarters, Sunday, March 9 Fadó at One Park Place is perfectly situated at the beginning of the parade route and is the official post-parade party spot.
Paddy's Price Fish and Chips, Monday, March 10 - A great meal is an essential part of any drinking strategy during the St Patrick's Day festivities and Fado is offering Fish and Chips, a traditional Irish meal and a pub favourite, at half-price all day.
Irish Spirits Dinner, Tuesday, March 11 at 7:30 p.m. - A five (5) course meal paired with five (5) different Bushmills Irish whiskies and hosted by Whiskey Master, Ewan Morgan. Cost is $49.95; details and tickets available online here.
"Green Elephant Party" Paddy's Day Pub Quiz hosted by our own Kyle Sullivan, Wednesday, March 12 at 8 p.m. - Specials prizes, giveaways, and drink specials all night and, as a special twist, teams are encouraged to bring in one gift for the pile and, throughout the night, are given the opportunity to choose from the pile of gifts or steal from a previously opened gift. Free to play and new teams always welcome. You can spin the "wheel of chance" to win prizes and all proceeds will benefit St Baldrick's.
Arthur's T-shirt Giveaway -Thursday, March 13 from 7 p.m. to 9 p.m. Guinness is giving away offer free custom tees.
Live Music with the Hooligans and Anna O'Doherty, Friday, March 14 Hooligans kick off at 5 p.m. with happy hour specials and Anna O'Doherty, playing classic Irish favorites at 8 p.m. $3, $4 and $5 late night drink specials start at 9 p.m. No Cover.
Super Saturday, March 15 Doors open early for English Premier League soccer and 6 Nations Rugby, featuring Ireland v France at 1pm. Live music kicks off at 2 p.m. with 40 Thieves, with Irish dancers performing throughout and The Crayfish from 6 p.m. to 9 p.m. DJ Joe will be playing "cracking" pub favourites from 9 p.m. until late. No cover.
Sunday School, March 16 Doors open early at 8 a.m. for European sports, including EPL featuring Liverpool v Manchester United at 9.30 a.m. "Pour your Own Pint" event from 1 p.m. to 4 p.m. Today is the day to learn how to pour a pint of the black stuff, properly; 119 seconds to perfection! Full brunch menu available with traditional Irish food. No cover.
St Patricks Day, Monday, March 17 - Doors open at 6 a.m. for Pints and Pancakes. WRNR will host their morning broadcast and giveaway a trip for two to Ireland! Live Music with Hooligans at 9 a.m., Irish dancers to perform at 11 a.m., Hal the Piper at 11:30 a.m. and a full live music line up til late with Dublin 5, Timmie Metz and more! Full menu available. $10 cover starts at 9 a.m. and minors in free before 9 a.m. 21+ over after 9 a.m.
About Fadó Irish Pub
Fadó (pronounced fuh-doe) Irish Pub was the first Irish pub to be designed and constructed in Ireland and shipped and installed in Annapolis. Fadó is distinguished by its genuine Irish hospitality, quality of its pints and craic (pronounced 'crack', a uniquely Irish form of fun). Fadó has been voted 'Best Of' by a number of local and national publications. Fadó is an official US Soccer bar. Get more information by visiting the pub's website page, Facebook page or by following @fadoannapolis on Twitter and following the hashtag #stpatricksday2014.