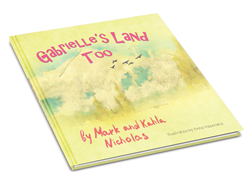 Whether we visit in person or use our imagination, we can get to these amazing places
Redondo Beach, CA (PRWEB) February 27, 2014
Based on Woody Guthrie's song This Land is Your Land, young Gabrielle embarks on a journey of imagination throughout many of the most wonderful locations in the United States.
Gabrielle's Land Too, written by Mark and Kahla Nicholas, is based largely on real-life travels to places mentioned in the song This Land is Your Land. Gabrielle visits the New York Island, Redwood Forest, golden wheat fields of Nebraska, sands of the Diamond Desert and other places unique to the United States.
"It is not enough to know that places exist," explains Mark Nicholas, CEO of Family Archival Solutions, Inc. "Whether we visit in person or use our imagination, we can get to these amazing places and create a lifelong connection. In the words of the song: "this land is your land, this land is my land", and now this land is Gabrielle's land too.
"The book is a story about home and owning a piece of something beautiful and magical. It is about the love of family and power of imagination. The book appeals to the child explorer in all of us."
For more information, review copies and interview requests, please visit http://www.gabrielleslandtoo.com or contact Mark Nicholas at (310) 800-1999 (mhnicholas1(at)gmail(dot)com).