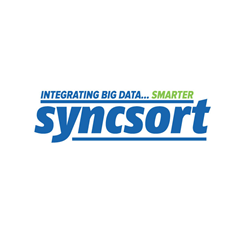 Woodcliff Lake, N.J. (PRWEB) February 24, 2014
Syncsort, a global leader in Big Data integration solutions, today announced its inclusion in Wikibon's Big Data Vendor Revenue and Market Forecast 2013-2017 report. The report analyzes results from more than 70 Big Data vendors, defines key market trends in 2013 and forecasts further growth in 2014.
"Wikibon has been tracking and forecasting the Big Data market since 2011, and this past year stands out as the time when Big Data vendors started delivering enterprise-ready solutions," said Jeff Kelly, Principal Research Contributor, the Wikibon Project. "Syncsort's expertise in easily offloading legacy data warehouse and mainframe data into Hadoop places the company in a unique position as more organizations evolve their Hadoop environments from testing to production and scaling."
Wikibon's research found that in 2013, the overall Big Data industry grew by 58 percent, with estimated $18.6 billion revenue from hardware, software and services sales.
"Thanks to the rapid mainstream adoption of Big Data technologies such as Apache Hadoop, Syncsort is in a great position to accelerate the growth we experienced over the last year," said Lonne Jaffe, CEO Syncsort. "In 2014, we're seeing sizable budgets get allocated to Hadoop projects and Syncsort is working with key partners and customers to achieve successful production deployments that fulfill Big Data's true potential for cost savings and innovation."
Syncsort was also included in a Forbes article referencing the Wikibon report, "Top 10 Big Data Pure-Plays 2014."
About Syncsort
Syncsort provides fast, secure, enterprise-grade software spanning Big Data solutions in Hadoop to Big Iron on mainframes. We help customers around the world to collect, process and distribute more data in less time, with fewer resources and lower costs. 87 of the Fortune 100 companies are Syncsort customers, and Syncsort's products are used in more than 85 countries to offload expensive and inefficient legacy data workloads, speed data warehouse and mainframe processing, and optimize cloud data integration. Experience Syncsort at http://www.syncsort.com.
About Wikibon
Wikibon is a professional, worldwide community of practitioners, technologists and consultants dedicated to solving technology and business problems through an open source sharing of free advisory knowledge. We started Wikibon because we believe the research and advisory business needs a stronger advocate for technology consumers - one that provides information that is independent, objective, developed by peers, and one where an analyst is not a 'guru' but rather a facilitator of knowledge sharing and a catalyst for collaboration. We call this Analyst 2.0.