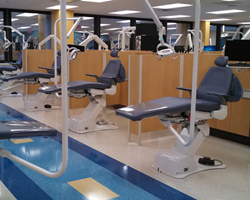 The team's collaboration produced a truly effective joint facility.
Newark, NJ (PRWEB) February 24, 2014
After eight months of construction, the newly renovated and upgraded Rutgers School of Dental Medicine Delta Dental Special Care Center and Brunsden-Villa Pediatric Center celebrated its official grand opening on February 20, 2014. The new 35-room dual purpose dental center is the only one of its kind in the State of New Jersey.
The project consisted of the reconstruction of 8,084 square feet of the existing Pediatric Dentistry Treatment Center and its adjacent space for the relocation of the Special Care Treatment Center from a different level of the building. The University's goal of the reconstruction project was to renovate and efficiently consolidate both pediatric treatment centers to provide adequate space for patient care, academic, and research programs, as well as to equip the spaces with the latest equipment and technology.
The $2.54 million facility is the product of a Construction Management at Risk effort between Rutgers School of Dental Medicine, Gilbane Building Company, and Ronald Schmidt & Associates. The facility includes:

14 closed operatories
20-chair open operatory area
X-ray room
Dispensary
Laboratory
Conference room
2 reception areas
6 offices
3 rest rooms
"Throughout the reconstruction and consolidation of both pediatric treatment centers, Gilbane's team worked closely with the University to ensure their goals to provide state-of-the-art spaces for patient care and academic programs were met," said John Fumosa, Gilbane vice president. "The team's collaboration produced a truly effective joint facility that serves the needs of Rutgers School of Dental Medicine."
About Gilbane Building Company
Gilbane provides a full slate of construction and facilities-related services – from sustainable building to the latest in construction technology – for clients across various markets. Founded in 1873 and still a privately held, family-run company, Gilbane has more than 50 office locations around the world. For more information, visit http://www.gilbaneco.com.
In New Jersey since 1967, Gilbane has provided construction and project/program management services to a variety of market segments. Prominent clients in the New Jersey area include the Devils Renaissance, LLC; the New Jersey Economic Development Authority; County of Essex; Becton Dickenson & Co.; Rutgers University; and New Jersey Transit.