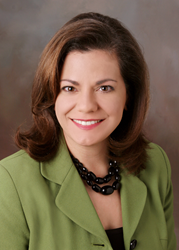 "Center Partners is taking a leadership position working with distinguished brands looking for white glove consumer experience. Jo Ann will identify market trends and strong vendors to partner with in this endeavor." - James P. Dunn, CEO
Fort Collins, Colorado (PRWEB) February 25, 2014
Center Partners is pleased to announce the hiring of Jo Ann Parris as their Senior Vice President of Market Strategies. Jo Ann is a versatile business growth strategist with in-depth knowledge of sales/client management, technology, operations and marketing. As a member of Center Partners' new executive team she will help realize their focus on growth through market development, and by leveraging technology to improve their clients' customer experience. With her strong IT background and agent-to-executive understanding of the industry, Jo Ann will also direct omni-channel strategies and thought leadership for the award winning, domestic call center, and will lead the use of analytics to help diversify their product offerings. Jo Ann attended Stetson University where she earned her Bachelor of Business Administration, and the University of South Florida where she received her MBA.
"As a Kantar / WPP company, Center Partners has unique access to valuable resources and market insights from the technology and communication industries," said James P. Dunn, Center Partners CEO.
"Center Partners is taking a leadership position working with distinguished brands looking for white glove consumer experience. Jo Ann will identify market trends and strong vendors to partner with in this endeavor."
Before joining Center Partners, Jo Ann worked with Aspect to successfully launch their cloud based, end-to-end contact center solution. Prior to that, she held multiple executive marketing, client management and operations positions with Convergys, each marked by improved efficiency and increased growth. As Vice President of Vertical and Solutions Marketing she played a key role in acquiring 11 Fortune 100 clients, and leveraged a $4M marketing budget into $2B in company revenue. Jo Ann held authority of $150M in P&L management, and has led overall P&L, account management, and sales for industry icons such as AT&T, SBC, BellSouth, Cincinnati Bell Telephone, and Cincinnati Bell Wireless. While with Verizon, Jo Ann broke new ground by becoming the first internal employee to secure one of thirteen seats in their Marketing & Sales Leadership program, which afforded her the experience to relocate globally six times and tackle a myriad of enterprising business challenges.
Center Partners is a leading provider of high value customer sales and support solutions for distinguished brands requiring superior consumer experience. Center Partners services multiple industries including retail, financial services, consumer products, media, and technology companies. The company has a 100% US based workforce with 4,000 employees. Center Partners is a proud member of the Kantar and WPP family of companies.