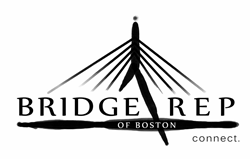 Boston, MA (PRWEB) March 01, 2014
Bridge Repertory Theater of Boston forges ahead with its ambitious first season with "Hello Again", a musical by Michael John LaChiusa. Opening in March at the Stanford Calderwood Pavilion at the Boston Center for the Arts, "Hello Again" is the company's third production this season, coming after Stephen Jeffreys' epic period piece, "The Libertine", and the World Premiere of "not Jenny", by Boston playwright and Bridge Rep Artistic Associate, MJ Halberstadt. In choosing a musical, Bridge Rep continues to establish itself through a particular style, rather than a particular genre. The company intends to do classic, contemporary, brand new, and musical work, with the common thread being an intimate, actor driven aesthetic.
The cast features Jared Dixon, Lauren Eicher, Sean Patrick Gibbons, Andrew Giordano*, Andrew Spatafora, Sarah Talbot, and Aubin Wise – an exciting mix of seasoned performers, rising Boston "local-ebrities", and brand new faces. Emerson graduate Michael Bello returns from New York City to helm the project as Director. Joining him are Mindy Cimini (Musical Director), Stephen Ursprung (Choreographer), Kathleen Doyle (Costume), Anne Sherer (Scenic), Chris Bocchiaro (Lighting Design), and John Tracey (Props). Cassie M. Seinuk* and Erin Baglole will tag-team Stage Management, while Rebecca Bradshaw and Joe Short serve as Production Manager and Technical Director, respectively.
Influenced by Arthur Schnitzler's "La Ronde", LaChiusa's "Hello Again" follows ten different characters as they weave through ten different intimate encounters, each one set in a different decade of the 20th century. From an abandoned Hudson River Pier at the turn of the century, to a 70's disco, to an affluent 50's suburb, audiences will follow The Whore, The Soldier, The Nurse, The College Boy, The Young Wife, The Husband, The Young Thing, The Writer, The Actress, and The Senator as they starve and strive for human connection. Bridge Rep's immersive production will be set in a cabaret style in an intimate space – no microphones required.
Presented by Bridge Repertory Theater of Boston
Book, Lyrics & Music by Michael John LaChiusa
Directed by Michael Bello
March 11 - March 29, 2014
Creative Team: Mindy Cimini (Music Director), Stephen Ursprung (Choreographer), Kathleen Doyle (Costumes), Anne Sherer (Scenic), Chris Bocchiaro (Lights), John Tracey (Props), Cassie M. Seinuk* (Production Stage Manager), Erin Baglole (Assistant Stage Manager)
*Denotes Member, Actors' Equity Association
Set in an immersive, cabaret style environment, Bridge Rep's production of Hello Again will create a unique, intimate environment for the audience as the music weaves through ten different scenes, each an erotic encounter set in a different decade of the 1900's.
For ticket reservations:
Visit http://www.bostontheatrescene.com // Call 917 633 8600 Buy In Person at the Box Office – 527 Tremont St, Boston
Currently in its first season, Bridge Rep of Boston continues to be an exciting, new addition to the Boston arts landscape. Staffed by eight promising, young Boston theatre professionals, Bridge Rep aims to connect actors to audiences, artists to artists, and the theater to the city. "Live theater is not an end unto itself, but rather a means of connection."