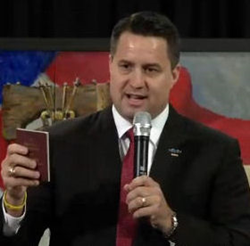 It's about Duty, Honor, Country and not me!
Columbia, SC (PRWEB) February 26, 2014
Afghanistan combat veteran, Orangeburg attorney, and Republican candidate for U.S. Senate Bill Connor has become the first challenger to Lindsey Graham to run television ads with plans to stay on TV through the primary election.
Only a week after Graham went on air calling himself a conservative, Connor answers in a cable ad airing on FoxNews Channel statewide, with footage of Graham praising liberal Hillary Clinton. Graham refers to her as a "role model." Graham also continues to call her one of the "most effective Secretary of States" and "greatest ambassadors" of the American people in his lifetime (as he has been alive for 58 years, that puts Hillary above Secretaries of State for Eisenhower, Nixon, Reagan, Bush, etc.). Then, he states in his own ad that he "led the fight on Benghazi" while not disclaiming his praise over her "effectiveness."
About his first ad, Connor stated, "I was at the TEA Party debate when I first saw this footage of Graham praising and hugging Hillary. I thought it represented what's most frustrating to South Carolina conservatives about Lindsey Graham–the inherent hypocrisy of calling himself a conservative when he campaigns, but acting like and voting like a moderate or liberal the rest of the time. My plan was always to get on TV first and to stay there."
This ad was the subject of criticism on NBC's Meet the Press on Sunday with the panel accusing Bill Connor of being TOO conservative.
In addition, Major General Paul E. Vallely, US ARMY (ret.) endorses Bill Connor publicly by just releasing a narrative video located here. Maj Gen Vallely was one of many influential conservatives named to Connor's steering committee last week.
Momentum for Bill Connor's campaign has been building very quickly since he entered the race in Mid-November and these latest items are sure to spur that growth even farther. Many national TEA Party groups have been holding off endorsing a candidate waiting to see who would emerge from the pack and it appears that Connor is well ahead of the others at this point in the race.
Bill Connor is a 23 year Airborne Ranger Infantry officer and Afghanistan combat veteran. He currently serves as a Lt. Colonel in the US Army reserves. He is a Citadel graduate who returned to SC after active military service. He has been married to his wife, Susan, for 22 years and they have 3 children. The Connors make their home in Orangeburg, where Bill and a partner operate a small general practice law firm with an additional emphasis in military law.
###