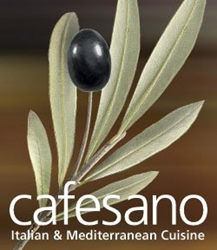 The new system is very simple to use and allows us to process our guests' orders and their payment quickly, efficiently and securely.
Reston, VA (PRWEB) February 25, 2014
Powered by LivingSocial's take-out and delivery platform, Cafesano's new online ordering system allows customers to make payments and place orders for pickup or delivery online from any desktop or mobile device.
Delivery is available for catering and take-out orders in Reston, Herndon, McLean, Vienna, Tyson's Corner and other locations in Northern Virginia. A minimum of a $100 order is required to qualify for delivery.
The new online ordering system is a step up from the previous arrangement that involved downloading a PDF order form and sending it to Cafesano via fax or email. There was no option for online payment and the process was slow.
"The new system is very simple to use and allows us to process our guests' orders and their payment quickly, efficiently and securely," commented Gino Maza, General Manager at Cafesano. He added the best part is that customers can now order from their desktop, smart phone, tablet or other mobile device.
Customers will need to create an account on the system before placing an order. Returning users can place orders even faster, as their contact and payment information is saved for easy access. Moreover, the system retains the history of past orders that can be repeated with one click.
"Oftentimes, when someone calls Cafesano to place an order, they may be put on hold for a few minutes while our cashiers are helping in-store customers," added Maza. He called the ability to order via mobile one of the main benefits for Cafesano's customers who can now easily place take-out orders on the go without having to call in or stop by.
While online ordering is easy and convenient, it's not always a good substitute for a phone conversation. "We don't want our customers to think that they can't call us anymore. We're here to answer any questions or assist our customers with planning a catering menu for their Northern Virginia event," shared Maza.
Cafesano plans to run online promotions and specials to offer more value to its customers. Users of the online ordering system will be able to apply promo codes to their online orders at checkout.
About Cafesano
Cafesano has been serving the communities of Reston, Herndon, Fairfax, Tysons Corner and Vienna, as well as other areas in Northern Virginia since 2005. Both local residents and out-of-state guests come to Cafesano to enjoy flavorful cuisine in a casual atmosphere with waterfront views. The restaurant's menu includes a variety of items from traditional Italian pizzas, paninis and desserts to fresh and flavorful Mediterranean appetizers, salads, wraps and kabob platters. The restaurant also offers unique and affordable catering in Reston, Va., and many other areas in Northern Virginia with optional delivery to nearby locations. For more information, please visit cafesano.com.