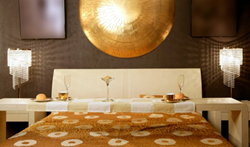 The objective is to acquire the furniture designs that will fulfill the current home design plan.
San Francisco, CA (PRWEB) February 25, 2014
the process is to organize this information into various categories. One method of organization would be to arrange the most desirable design ideas together. Arrange this collection in order of the likelihood or feasibility of its completion. Within this collection, note all of the steps required to complete each detail, including the purchase of each piece of furniture and décor items. It's possible that a hand-me-down piece of furniture is a vintage piece captured in the budding design journal.
If a retail source is known for any of the design items pictured, such as the draperies, rugs, sofa, etc., include this information in the notes. Estimate the cost to complete each step of the design. Create a construction plan as well as a timeline. The construction plan should reference what a hired contractor will be responsible to complete, such as painting the walls, sanding the floors, hanging the shelves or installing the curtain rods. The timeline should include personal responsibilities as well as holidays during the time of construction. The information acquired through the completion of each step will provide significant insight into the feasibility of developing this home design. Another tip is to arrange the design ideas together that are best suited to the existing home structure. The most suitable ideas for a home redo may also turn out to be the easiest (least construction) to achieve and thus less costly. This set of designs may also become the first phase towards a complete remodel.
The final design step is to become acquainted with the home décor and furnishing resources in the community. The resources should include the local antique stores, second hand shops, flea markets and garage sales as well the new furniture and home décor resources. The objective is to acquire the furniture designs that will fulfill the current home design plan. Normally, a new home design will provide happiness for years if the right pieces have been selected. Refrain from visiting the local furniture store simply to take advantage of sale prices. It's best to work out the new interior design with an idea file before spending any money. This type of project can be costly. But costs can be controlled by knowing what furniture designs and decor details are needed, as well as knowing the marketplace. Be certain the design details are appropriate for the home space. Exploring all the local resources is a valuable experience. Online resources are also valuable. KindaChic.com is an online home décor and furnishings website known for unique and stylish design ideas for the home.