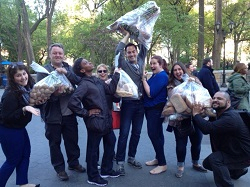 New York, NY (PRWEB) February 26, 2014
Furnished Quarters, the largest provider of temporary furnished apartments in New York City and Boston, today announced that in 2013, the company supported more charitable initiatives than ever before through its corporate charitable giving program, FQ Cares. FQ Cares was co-founded in 1998 by Steve Brown, CEO, and Gary Brown, President, of Furnished Quarters to positively impact and support the communities and charities that are important to social and economic development. In addition to supporting company-wide initiatives, Furnished Quarters also matches employee donations to individual charitable causes.
"For over 15 years, Furnished Quarters has partnered with its employees through FQ Cares, but 2013 was special," said Steve Brown, CEO of Furnished Quarters. "The FQ team supported more charitable initiatives in 2013—whether company- or employee-driven—than ever before, since the inception of the program."
Jackie McMann-Oliveri, VP of Human Resources at Furnished Quarters, heads the program. She emphasized that the company's social strategy focuses on leveraging internal resources—people, skills, expertise, and funding—to support charitable efforts and social causes that are collectively and individually important.
"The FQ Cares program continues to engage employees, create experiences and relationships outside of the office, and allow the organization to help our employees help others," said McMann-Oliveri. "In 2013, we were particularly effective at bringing every division of the company together in these collective efforts to help charitable organizations in our community and throughout the country."
Employees volunteer and contribute to many charitable organizations as a team, as well as individually. FQ Cares team initiatives in 2013 included:
•Multiple volunteer efforts supporting Decanstruction, a food donation initiative of City Harvest to distribute food to those in need.
•Participation in the 9/11 Memorial 5K Run/Walk to support the National September 11 Memorial & Museum.
•Partaking in the Million Mile Run as part of a fundraising event for pediatric cancer.
•Fundraising for Heart Health Month benefitting the American Heart Association.
•Walking in support of the American Cancer Society in Making Strides for Breast Cancer.
•Volunteering for the Union Square Greenmarket Rescue, an effort in conjunction with City Harvest to collect excess food from local farmers to feed New York City's hungry.
•Participating in the 8th Annual [email protected] held by the Road Runner's Club of America to promote wellness in the workplace.
•Riding in the fundraising cycling event, Tour de Cure, to raise money for the American Diabetes Association.
Vivian Nieves, Project Coordinator for City Harvest, reports that Furnished Quarters has actively supported the organization since 2011. "We feel great gratitude to Furnished Quarters for getting involved and supporting us in our efforts, as we help to feed more than one million people who face hunger each year," said Nieves.
Furnished Quarters also supports charitable causes chosen by employees that have personal relevance to them. Individual volunteer efforts in 2013 by Furnished Quarters' employees include collaboration with Food Bank NY, Cell Phones for Soldiers, Adopt-A-Family, and Kids-In-Crisis. Other organizations that employees participated in during the year were Musicians on Call, NY Cares, and Drive for Staten Island.
About Furnished Quarters
Furnished Quarters is an independently owned and operated provider of stylishly designed and fully equipped temporary furnished apartment rentals, both nationally and globally, and the largest provider of temporary furnished housing in New York City and Boston. Furnished Quarters also provides a diverse portfolio of temporary furnished apartments in New Jersey, White Plains, and Connecticut. Established in 1998, Furnished Quarters is a founding member of GO Furnished Housing Providers, a consortium of best-in-class temporary housing companies offering one-call access to apartments worldwide. For more information visit http://www.furnishedquarters.com.