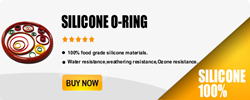 (PRWEB) February 25, 2014
Recently, TOGOHK.com, the top-ranking silicone product supplier, has unveiled its new options of waterproof silicone O-rings. Today, the company has announced its big discounts on these durable items. All of them are now offered at low prices, up to 30% off. The promotion will last from today until March 14, 2014.
As a matter of fact, TOGOHK.com has been working in the industry for a very long time. Its rich experience enhances the level of its rings. It aims to bring more benefits and convenience for distributors from all over the world.
The CEO of the company says, "We are happy to release our new products and launch the promotion. The aim of the special offer is to expand our market share. As one of the pioneers in the international market, we pay plenty of attention to material picking, bug testing, application acceptance and online service. The big promotion is a great chance for those who want to buy waterproof silicone O-rings at low rates."
Other promotional products offered by the company are LED silicone O-rings, customize Viton O-rings, waterproof silicone Gaskets and so on. Any order can get a discounted shipping fee.
About TOGOHK.com
Founded in 2003, TOGOHK is the leading provider of silicone products; the company has developed into a modern enterprise that offers its clients worldwide a one-stop silicone product solution from conception to delivery. With high technology engineering and advanced CAD and CAM, the company has been serving more than 3000 customers from over 70 countries.
For more information about the business, please visit their website at: http://www.togohk.com/?gallery=silicone-o-ring.