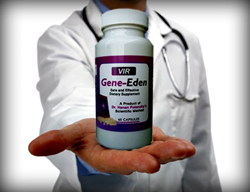 'We recommend individuals talk to their doctors about Gene-Eden-VIR. This natural antiviral was proven to reduce viral symptoms in a post-marketing clinical study that followed FDA guidelines.' – Mike Evans, polyDNA
Rochester, NY (PRWEB) March 01, 2014
The CDC says that, during this flu season almost twice as many people were hospitalized because of the flu virus compared to previous years. In fact, "People aged 18-64 account for 61 percent of influenza hospitalizations, compared to 35 percent for that age range in past years." (See the UniversityHerald.com, from February 21, 2014) (2). Moreover, more than half of these hospitalizations are of young people. "People aged 25-64 have also accounted for more than half of all flu-related deaths (2)." Thus the CDC is urging vaccination "since flu season may not end until early spring (2)."
However, some research shows that the flu vaccine is only partially effective, and that a person's immunity against the flu disappeared in a short amount of time. "These results suggest a low preventive effect of the 2011/12 seasonal influenza vaccine, and a decline in VE (vaccine effectiveness) with time since vaccination." (See the European medical journal Eurosurveillance, from January 31, 2013) (3). polyDNA therefore recommends that in addition to a flu shot, people should take Gene-Eden-VIR, a natural antiviral proven to reduce viral symptoms in a post-marketing clinical study that followed FDA guidelines.
The CDC notes that, "Influenza activity in the United States remained elevated through February 8… Twenty-four states reported widespread flu activity that week. 'Widespread' means that more than 50% of geographic regions in a state - counties, for example - are reporting flu activity. The designation addresses the spread of the flu, not its severity. Experts expect elevated flu activity in parts of the United States for several more weeks, especially in states where flu activity started later (1)."
Dr. Anne Schuchat said, "I want to remind you that the season is not over. There is still a lot of influenza circulating. If you haven't been vaccinated yet, it's not too late for you to benefit (1)." Dr. Schuchat is the director of the National Center for Immunization and Respiratory Diseases. In addition, Dr. Tom Frieden, director of the CDC, said, "Influenza can make anyone very sick, very fast and it can kill (1)."
polyDNA believes that individuals concerned about the flu virus should talk to their doctors about Gene-Eden-VIR. polyDNA would like to remind the public that, "The prevalence of chronic viral infectious diseases, such as … influenza virus…and resistance to currently used antiviral drugs have led to increased demand for new antiviral strategies and reagents." (See Trends in Pharmacological Sciences, from February 2014) (4).
"We recommend individuals talk to their doctors about Gene-Eden-VIR. This natural antiviral was proven to reduce viral symptoms in a post-marketing clinical study that followed FDA guidelines." – Mike Evans, polyDNA
A study published on August 12, 2013 in the peer reviewed, medical journal Pharmacology & Pharmacy, in a special edition on Advances in Antiviral Drugs, showed that Gene-Eden-VIR reduced viral symptoms. Study authors wrote that, "Individuals… reported a safe decrease in their symptoms following treatment with Gene-Eden-VIR (5)." The post marketing study authors also wrote that, "We observed a statistically significant decrease in the severity, duration, and frequency of symptoms (5)."
To learn more about Gene-Eden-VIR, visit http://www.gene-eden-kill-virus.com. All orders of Gene-Eden-VIR are completely confidential, and no information is shared or sold to any third party. Privacy is assured.
###
References:
(1) Flu hitting young people harder this year. Published on February 20, 2014.
http://edition.cnn.com/2014/02/20/health/flu-hits-young-people/
(2) Flu Season Not Over Yet: Why So Many Younger People Are Being Hospitalized for Influenza. Published on February 21, 2014.
http://www.universityherald.com/articles/7675/20140221/flu-season-not-over-yet-why-so-many-younger-people-are-being-hospitalized-for-influenza.htm
(3) Decline in Influenza Vaccine Effectiveness with Time After Vaccination, Navarre, Spain, Season 2011/12. Published on January 31, 2013.
http://www.eurosurveillance.org/ViewArticle.aspx?ArticleId=20388
(3) Vaccine Effectiveness of 2011/12 Trivalent Seasonal Influenza Vaccine in Preventing Laboratory-Confirmed Influenza in Primary Care in the United Kingdom: Evidence of Waning Intra-Seasonal Protection. Published on January 31, 2013.
http://www.eurosurveillance.org/ViewArticle.aspx?ArticleId=20389
(4) Current progress in antiviral strategies. Published in February 2014.
http://www.ncbi.nlm.nih.gov/pubmed/24439476
(5) Gene-Eden-VIR Is Antiviral: Results of a Post Marketing Clinical Study. Published on August 12, 2013.
http://gene-eden-kill-virus.com/PP_Gene-Eden-VIR-is-Antiviral.pdf
polyDNA is a biotechnology company that develops dietary supplements using the unique scientific method developed by Dr. Hanan Polansky, which is based on Computer Intuition.
In addition to his unique scientific method, Dr. Polansky published the highly acclaimed scientific discovery, called Microcompetition with Foreign DNA. The discovery explains how foreign DNA fragments, and specifically, DNA of latent viruses, cause most major diseases.
polyDNA developed Gene-Eden-VIR, an antiviral natural remedy that helps the immune system kill latent viruses.