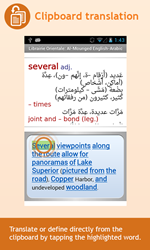 Freiburg/Beirut (PRWEB UK) 25 February 2014
Paragon Software Group, the leading software developer of electronic dictionaries for mobile devices, tablets and PCs, announces the release of the premium content the Al-Mounged English-Arabic Dictionary for Android, iPad, iPhone and OS X. The app comes with a free preview option, and offers the most advanced search, learning and translation features.
Professor Theodory Constantin has spent years preparing Al-Mounged English-Arabic Dictionary. The lack of linguistic uniformity among Arab countries has made him give numerous Arabic synonyms while carefully selecting those in common use without, however, neglecting technical expressions that belong to the ordinary intellectual baggage of the cultured Arab reader. The author has tried to translate succinctly in a practical way, avoiding approximations and theorizing. What has helped him is – and it is one of the most important characteristics of the Mounged – that he submitted his translation to the test of example, for only the latter permits one to verify the correctness and practicability of the desired word.
Search and translate features:

Easy copy-and-paste functions copy words to the clipboard for translation.
PenReader multilingual handwriting recognition support.
List of similar words in case of misspelling.
Wildcard Search if you are unsure of the exact word spelling. Use "?" and "*" symbols to replace the missing letters.
English morphology module helps to translate words in any grammatical form.
Search for anagrams (e. g. tab-bat).
Hyperlinks between articles and directions.
Learning features:
English audio pronunciations recorded by native speakers.
Flash Card Quiz to memorize new words and test your knowledge as many times as you wish.
Favorites - to quickly access frequently searched words.
Handy Converter support.
Search History to revise your recent translations
Interface features:
Built-in dictionary catalog for in-app purchases.
Improved user interface for your better experience.
Enhanced customization options allow you to modify animated menus and choose background colors.
Enlarge or reduce font size for your comfort.
Landscape-mode support.
Fully iPad optimized interface.
No Internet connection required
Requirements:
iOS 5.0 and higher. Android 2.2 and higher. Mac OS X 10.7 and higher.
Availability:
The Al-Mounged English-Arabic Dictionary for Mac OS X and iOS devices is available for free from the AppStore: https://itunes.apple.com/gb/app/librairie-orientale/id672230857?mt=8, the Mac App Store: https://itunes.apple.com/us/app/librairie-orientale/id672239996?mt=12 and Google Play: https://play.google.com/store/apps/details?id=com.slovoed.noreg.librairie_orientale.english_arabic.
The full-fledged version is available for buying within the in-app dictionary catalog for 21.99 USD (19.99 EUR).