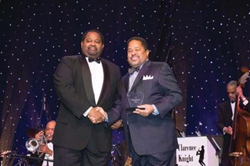 To be honored by your peers and mentors validates what you do.
Hoboken, NJ (PRWEB) February 25, 2014
A Stevens Institute of Technology adjunct professor was honored during the 28th annual 2014 Black Engineer of the Year Awards Science, Technology, Engineering and Mathematics (STEM) Conference in early February.
Dr. Russell Ford M.Eng. '91 Ph.D. '03, a Stevens adjunct professor of environmental engineering, received the BEYA Pioneer Award during a three-day conference designed to bring together college administrators, recruiters, students, scientists and engineering and IT professionals in an effort to broaden diversity in the U.S.'s technical and scientific work forces. Ford is also vice president and Global Services Leader – Drinking Water for CH2M in Cherry Hill, N.J.
The Pioneer Award honors individuals of exceptional creativity who propose pioneering – and possibly transforming – approaches to major challenges in STEM and by being role models. This award recognizes innovative leaders who have worked in their profession for some time, creating a social and economic impact in their field. Nominations come from peers and mentors.
"This recognition is very special to me,'' said Ford. "To be honored by your peers and mentors validates what you do. I thank the BEYA Committee for this.''
Ford received his B.E. in chemical engineering from Syracuse University and both his M.Eng. and his Ph.D. from Stevens in environmental engineering. He has been teaching at Stevens since 1995.
The event was hosted by U.S. Black Engineer & Information Technology magazine, the Council of Engineering Deans of Historically Black Colleges and Universities, and Lockheed Martin Corp.
About Stevens Institute of Technology
Stevens Institute of Technology, The Innovation University®, is a premier, private research university situated in Hoboken, N.J. overlooking the Manhattan skyline. Founded in 1870, technological innovation has been the hallmark and legacy of Stevens' education and research programs for more than 140 years. Within the university's three schools and one college, more than 6,100 undergraduate and graduate students collaborate with more than 350 faculty members in an interdisciplinary, student-centric, entrepreneurial environment to advance the frontiers of science and leverage technology to confront global challenges. Stevens is home to three national research centers of excellence, as well as joint research programs focused on critical industries such as healthcare, energy, finance, defense, STEM education and coastal sustainability. The university is consistently ranked among the nation's elite for return on investment for students, career services programs and mid-career salaries of alumni. Stevens is in the midst of a 10-year strategic plan, The Future. Ours to Create., designed to further extend the Stevens legacy to create a forward-looking and far-reaching institution with global impact.