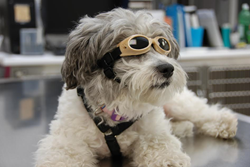 Laser therapy for animals is a relatively new process but it has been warmly received within the industry and by our patients.
Vancouver, British Columbia (PRWEB) February 25, 2014
A local Vancouver veterinary hospital was acknowledged for providing alternative pet care in February's issue of Reader's Digest. The article, "4 Unconventional Health Care Options for Your Pet" by Kelli Korducki included an interview with Dr. Nina Speyer from Vancouver's Amherst Veterinary Hospital. In recent years, animal lovers and scientists around the world have been thinking of new ways to relieve animals from their pain. One of the new procedures is laser therapy for animals which uses therapeutic light to penetrate deep into the skin to change the condition of damaged tissue by stimulating cellular metabolism which aids pain relief, speeds up the healing process and reduces inflammation.
Dr. Nina Speyer said that "Laser therapy for animals is a relatively new process but it has been warmly received within the industry and by our patients. It's a great alternative treatment for pain management and the procedure is quick and non-invasive. We're ecstatic that we can readily provide this service, which is all thanks to recent advances in technology which made the procedure both available and affordable for clinicians and their patients." Laser therapy is a common procedure following surgery or for an inflammatory conditions such as tendonitis or arthritis. The treatment itself is relatively quick process and usually lasts up to 3 minutes.
Aside from post-surgery procedures and curing inflammatory conditions such as arthritis and tendonitis, laser therapy can be used to treat: joint pain, sinusitis, intervertebral disc disease, hip dysplasia, and much more. Some of the largest benefits from laser therapy are: it's a painless procedure, relief of chronic pain to acute pain, reduces inflammation and scarring, stimulates healing of damaged tissue, improves local blood circulation, and pain medications may be able to be eliminated.
After the first to third treatment clients can expect the pet's behavior to be either more relaxed or more active depending on the animal's temperament and mood. Because of the pain relief, the dog or cat may choose to move around more or it may choose to relish in the new found comfort by lying by the couch all night. Due to the severity and complexity of some conditions select animals may require a series of treatments before it is able to experience noticeable progress.
Amherst Veterinary Hospital was founded in 1987 and have been providing the highest quality veterinary care to Vancouver animals ever since. Amherst Veterinary Hospital takes pride in pursuing the latest practices within the industry. They work as a team to enrich the knowledge of all staff and clients through education and new technology. They offer a full spectrum of veterinary services using state-of-the-art facilities and equipment. All staff are dedicated, friendly animal lovers who provide individual service with personal care. Amherst Veterinary Hospital is a full service animal hospital located in Vancouver on West 4th and Alma in the Jericho Village Mall. They now offer both laser therapy and acupuncture to relieve your pet's pain, reduce inflammation, and restore mobility.