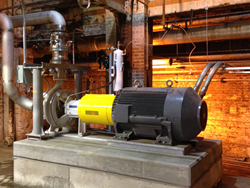 Our tests validated that Arisdyne's equipment provided us with a reliable, cost effective way to significantly increase the yield and reduce operating costs.
Pekin, IL (PRWEB) February 27, 2014
Tests of the Arisdyne Systems, Inc. controlled flow cavitation process (CFC™) verified that the proprietary process has increased ethanol yield by over 3%. The production increases were confirmed by comprehensive collaborative testing by Arisdyne and Illinois Corn Processing LLC, (ICP), over a 4 month testing period at their Pekin, Illinois plant. The testing at ICP helped Arisdyne reach a major milestone of 1 billion gallons of cumulative production using Arisdyne's CFC™ technology in ethanol production plants.
"We are delighted with the current test results and are exploring further opportunities to optimize plant operations with Arisdyne technology," said Chuck Hundt, Process Improvement Manager at the ICP continuous fermentation plant. "Our tests validated that their equipment provided us with a reliable, cost effective way to significantly increase the yield and reduce operating costs."
Arisdyne tailored its patented Control Flow Cavitation™ system for ICP, utilizing the same small footprint design used by batch processing plants. The make ready efforts for installing the system were completed well under budget in late summer with across-the-board testing through year end. "After considering alternate yield enhancement options, we concluded the Arisdyne system was more reliable, more energy efficient and had a lower overall cost," said Hundt. "In addition, their adherence to the schedule, commitment to service and design simplicity is unparalleled."
"It's gratifying to work with an organization like ICP," said Fred Clarke, Executive Vice President of Arisdyne Systems. "We really appreciated ICP's commitment to working together with a common objective. This project has opened the doors for Arisdyne to introduce our technology and design flexibility to other continuous fermentation process producers as well as newer markets outside the dry mill industry."