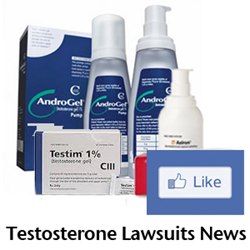 If your believe you have suffered cardiovascular problems due to testosterone treatment drugs such as Androgel, Androderm and Testim, Call Wright & Schulte LLC today for a Free Legal Evaluation at 1-800-399-0795 or by visiting www.yourlegalhelp.com
Columbus, OH (PRWEB) April 27, 2014
Wright & Schulte LLC, an experienced law firm representing clients in testosterone treatment lawsuits, announces they have launched a new Testosterone Lawsuit Information Facebook page to provide the public with the most up-to-date information regarding the growing litigation of product liability claims involving AndroGel, Testim, Androderm and other prescription drugs used in the treatment of men with low testosterone, or Low T.
The new Facebook page will operate as an adjunct to Wright & Schulte's main website, and serve as another avenue for clients, potential clients and others who may have questions about the life-threatening cardiac side effects potentially associated with testosterone treatment drugs. In addition to accessing important information regarding the mounting number of low testosterone lawsuit filings, visitors to the page will be able to link to Wright & Schulte's website, share their own experiences with these drugs, and interact with the Firm's attorneys. Visitors are invited to "Like" the low testosterone treatment lawsuit page to help spread the word about this important legal issue.
Court documents indicate there are currently 50 testosterone lawsuits pending against the makers of AndroGel, Testim, Androderm and other "Low T" medications and attributed this growth to allegedly aggressive marketing campaigns that caused men to seek testosterone therapy for the normal symptoms of old age. Earlier this month a motion was filed to consolidate all pending cases involving testosterone therapy drugs to the U.S. District Court, Eastern District of Louisiana (In Re: Testosterone Products Liability Litigation, No. 42, JPML).
Bloomberg reports, the use of AndroGel Testim, Androderm and similar drugs grew more than fivefold to 5.3 million men in between 2000 and 2011. According to court records, the testosterone lawsuits filed claim these marketing tactics caused many men to use Low T therapies even though they do not suffer from low testosterone. The complaints, which allege AndroGel, Testim and Androderm caused plaintiffs to suffer heart attacks, strokes and heart failure, also allege that the drug's manufacturers of concealing the risks associated with testosterone treatment drugs, and allege that they were aware of its "serious propensity" to cause harm. (Aurecchia v. AbbVie Inc, 14-cv-00772; Benn v. AbbVie, 14-cv-00774; Gallagher v. AbbVie Inc., 14-cv-00776; Marino v. AbbVie Inc., 14-cv-00777 and Myers v. AbbVie Inc., 14-cv-00780;)
[bloomberg.com/news/2014-02-05/abbott-labs-sued-by-five-men-claiming-androgel-injuries.html, Bloomberg, February 5, 2014]
Men who used AndroGel or a similar drug may be eligible to file their own low testosterone therapy lawsuit if they experienced serious and life-threatening cardiovascular events during treatment. To learn more, or to arrange for a free legal consultation with an attorney at Wright & Schulte LLC, please visit yourlegalhelp.com.
About Wright & Schulte LLC
Wright & Schulte LLC, an experienced personal injury firm, is dedicated to the belief that America's legal system should work for the people. Every day, the attorneys of Wright & Schulte LLC stand up for the rights of people who have been injured or wronged and fight tirelessly to ensure that even the world's most powerful corporations take responsibility for their actions. If you're looking for a law firm that will guarantee the aggressive and personal representation you deserve, please do not hesitate to contact Wright & Schulte LLC today. Free Lipitor lawsuit case evaluations are available through yourlegalhelp.com or by calling 1-800-399-0795.
Contact:
Wright & Schulte LLC
812 East National Road
Vandalia, Ohio 45377
1-800-399-0795
http://www.yourlegalhelp.com