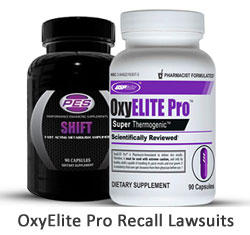 If you've believe you have suffered liver failure, non-viral Hepatitis or other possible OxyElite side-effects contact Wright & Schulte LLC for a free case evaluation at 1-800-399-0795 or visit www.yourlegalhelp.com.
Columbus, OH (PRWEB) March 08, 2014
The OxyElite Pro lawsuit lawyers at Wright & Schulte LLC note that USPLabs, the maker of OxyElite Pro and Jac 3D dietary supplements, has requested that all federal product liability lawsuits alleging injury due to these products be consolidated in a multidistrict litigation and transferred to a single court for pretrial proceedings. According to a motion filed with the U.S. Judicial Panel on January 13, 2014, USPLabs asserts that the creation of a multidistrict litigation "would promote convenient, consistent and efficient pretrial proceedings." (In re USPlabs Dietary Supplement Litigation, MDL No. 2523)
In November 2013, USPLabs announced an OxyElite Pro recall, after the U.S. Food & Drug Administration (FDA) found a probable link between the supplements and at least 56 cases of severe liver injury, liver failure and acute non-viral hepatitis. According to the agency, these incidents included 22 hospitalizations, two patients who required liver transplants and one fatality.
(fda.gov/food/recallsoutbreaksemergencies/
outbreaks/ucm370849.htm, FDA, November 9, 2013)
According to court documents, the OxyElite Pro recall involved a reformulated version of the supplements, which were altered by USPLabs following an FDA decision to ban the use of DMAA, or 1,3-dimethylamylamine, in such products. DMAA was also an ingredient in Jac 3D. The DMAA ban was instituted in April 2013, after the ingredient had been linked to adverse cardiovascular events such as heart attack, stroke, heart arrhythmias, heart palpitations, dizziness, loss of consciousness and death. According to an FDA notice issued at the time, DMAA supplements had been associated with 86 reports of illnesses and death.
[fda.gov/ForConsumers/ConsumerUpdates/ucm347270.htm, FDA, April 11, 2013]
According to the motion filed with the JPML by USPLabs, the company has been named in at least nine lawsuits that make nearly identical claims regarding serious injuries allegedly caused by OxyElite Pro and Jac 3D. Among other things, plaintiffs allege that USPLabs continues to make material misrepresentations and omissions in its advertising for OxyElite and Jac3D and continues to downplay the true health risks associated with the supplements. The company states in the motion that it anticipates that even more OxyElite Pro and Jac 3D lawsuits will be filed in the future.
According to court documents, USPLabs has asked the JPML to transfer all federally-filed OxyElite Pro and Jac3D lawsuits to the U.S. District Court, Eastern District of Pennsylvania. Alternatively, the company has also proposed that the cases be centralized in the U.S. District Court, Western District of Texas. According to Wright & Schulte LLC, a multidistrict litigation would allow Jac 3D and OxyElite Pro lawsuits to proceed more efficiently, by eliminating inconsistent rulings and duplicative discovery. Such a proceeding would also help to preserve the resources of the courts, parties and witnesses.
For additional information visit our website for all the current news and updates.
Wright & Schulte LLC is offering free OxyElite Pro and Jac3D lawsuit reviews to consumers who may have been harmed by these products. To learn more, or to arrange for a free legal consultation with an attorney at Wright & Schulte LLC, please visit yourlegalhelp.com.
About Wright & Schulte LLC
Wright & Schulte LLC, an experienced personal injury firm, is dedicated to the belief that America's legal system should work for the people. Every day, the attorneys of Wright & Schulte LLC stand up for the rights of people who have been injured or wronged and fight tirelessly to ensure that even the world's most powerful corporations take responsibility for their actions. If you're looking for a law firm that will guarantee the aggressive and personal representation you deserve, please do not hesitate to contact Wright & Schulte LLC today. Free OxyElite Pro lawsuit case evaluations are available through yourlegalhelp.com or by calling 1-800-399-0795.
Contact:
Wright & Schulte LLC
1-800-399-0795
http://www.yourlegalhelp.com