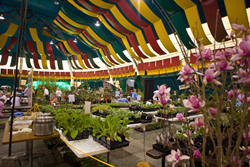 "We will have an incredible array of herbs, flowering plants – both annuals and perennials - and shrubs as well as gardening books and garden decor,"
Pine Mountain, GA (PRWEB) February 28, 2014
Head to Callaway Gardens for new gardening knowledge, inspiration and ideas for your garden. Be sure to bring a plant list and a vehicle large enough to take home all of the great finds from the Callaway Gardens Annual Plant Fair and Sale, March 27-30, 2014.
Annual Plant Fair and Sale
"We will have an incredible array of herbs, flowering plants – both annuals and perennials - and shrubs as well as gardening books and garden decor," said Patricia Collins, director of the Gardens. "This is a wonderful opportunity to buy some items that are very unique and sometimes hard-to-find."
In addition to Callaway Gardens' plants and specialty items, more than a dozen nurseries and specialty vendors from throughout the Southeast will have plants for sale, answer plant-related questions and offer their unique garden-related wares. Those participating include: Big Frog Nursery, Blue Meadows Farm, Chattahoochee Valley Day Lily Society, Delvecchio Japanese Maple Nursery, The French Market, Garden Delights, Garden Solutions, Hollonville Nursery, Massee Lane Camellia Gardens, Our Secret Garden, Petals from the Past, Rocky Branch Nursery, Sabatino Ceramics, and Steel Art by Kathy.
The Plant Fair and Sale will be open to the public Thursday, March 27 from 3 p.m. to 7 p.m.; March 28 and 29 from 10 a.m. to 6 p.m. and March 30 from 10 a.m. to 5 p.m.
Admission to the Plant Fair and Sale at the Beach Dome at Robin Lake Beach is free when entering through the Beach gate on U.S. Hwy. 27.
Gardening School and Landscape Design Workshop Led by Expert
Two special gardening events are available in conjunction with the Plant Fair. On Thursday, enjoy the day learning from experts Andrea Wulf and Erica Glasener as they share their knowledge at the annual Callaway Gardening School. Wulf will speak on our how our founding fathers attitudes toward plants, gardens, nature and agriculture shaped the American nation. Glasener will showcase how stunning plant combinations, thoughtful design and a strong identity can tie a garden to its region and still be beautiful. Following their talks, both will be participating in a Question and Answer session. Both will have their books available for purchase and signing. Afterwards, shop at the Plant Fair as these two experts stroll the Plant Fair and avail themselves for questions. The cost of $87 includes transportation, lunch and a Wine and Cheese Get-Together at the end of the day.
On Friday, Glasener will be conducting a Landscape Design Workshop to inspire those with both grand and small gardens. This event is $79 and includes lunch.
Both events are available for the special price of $159.
To register, call the Education Department at 706-663-5153 or email education(at)callawaygardens(dot)com.
Take it all in by staying overnight with the special "workshop rate" in the recently renovated Mountain Creek Inn for $99. Simply call 1-800-CALLAWAY (800-225-5292) or visit http://www.callawaygardens.com.
Celebrate Spring! and a Bounty of Floral Color
The Gardens will be hosting Celebrate Spring! March 22 through April 20 to celebrate the explosion of Spring color among the blooming trees, azaleas, bulbs combined with a variety of activities, each weekend has a special theme. Admission during this special event is $25/adult; $12.50/child; children 5 and younger are admitted for free. Callaway Gardens Annual Passholders, with pass, receive free access for themselves and up to five guests in the same vehicle. Military receive half-price admission.
For those dreaming of a weekend getaway, a Celebrate Spring! overnight package is available at the brand new rooms at Mountain Creek Inn, cozy Southern Pine Cottages and relaxing Mountain Creek Villas.
Callaway Gardens is in Pine Mountain, Ga., 60 minutes southwest of Atlanta and 30 minutes north of Columbus. For additional information, visit http://www.callawaygardens.com or call 1-800-CALLAWAY (800-225-5292).
###
*Details subject to change
About Callaway Gardens
For 60 years, Callaway Gardens has provided "a place of relaxation, inspiration and a better understanding of the living world" for millions of visitors. Owned and operated by the non-profit Ida Cason Callaway Foundation, Callaway Gardens includes a garden, resort, preserve and residential community on thousands of acres in Pine Mountain, Georgia. Highlights include a butterfly conservatory, horticultural center, discovery center, chapel, inland beach, nature trails and special events throughout the year.
In addition, Callaway Gardens offers nearly 80,000 square feet of meeting space, 684 guest rooms, restaurants, shops, golf, tennis, fishing and more.
Five unique, close-knit residential communities — with custom home sites, lakefront properties and cottages on the golf course — offer an ideal home away from home or full-time residence.
Callaway Gardens is home to a forest preserve which is under conservation easement. This conserved, sustainably-managed land is used for biological studies and environmental education programs.