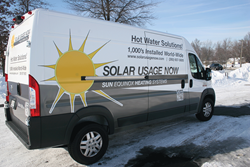 (PRWEB) March 01, 2014
Solar Usage Now (SUN) is excited to announce that the company has invested in a new mobile marketing van.
SUN's new Dodge van has been wrapped with company logos and information. The inside of the van will hold a 2-2 Sun Equinox Heating System to show to customers and prospects.
"We are very excited about our new mobile marketing van. This is an opportunity for customers to see our product first hand," says president and CEO of SUN, Thomas Blake. "This is a great move forward, and we can't wait to engage with our existing customers and potential prospects thanks to our new van."
The van will also be equipped with some of SUNs other products: a display evacuated tube collector, insulation, and various parts needed to build the full heating system.
"I'm really excited to get out on the road and show people this amazing hot water heating system," said SUN Marketing Director Robert Blake. "We are dedicated to bringing companies and households the best products for solar thermal solutions, and our mobile marketing van will support this mission."
With its new marketing van, SUN is currently focusing its efforts on Ohio, Indiana, Michigan, New York, and Texas. Anyone interest in having this marketing van stop by their office please contact Robert Blake at rblake (at) ochinc (dot) com.
For more information about Solar Usage Now, please visit http://www.solarusagenow.com.
About Solar Usage Now (SUN):
Indiana-based Solar Usage Now, commonly known as SUN, was incorporated in 2005, although the company actually started 25 years ago as Our Country Home, Inc., a manufacturing, engineering, and marketing company with a unique niche market. Solar Usage Now is dedicated to delivering the best products for solar thermal solutions to the corporate and residential markets. SUN distributes an environmentally-friendly solar thermal line of equipment to a vast dealer network. The company has international agreements with Germany, Australia, and China. To learn more about Solar Usage Now, please visit solarusagenow.com.