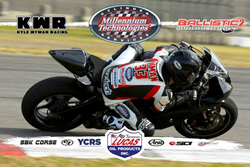 Macedon,NY (PRWEB) February 27, 2014
Kyle Wyman Racing is proud to announce a partnership with the Millennium Technologies family of companies to field an entry in the Daytona 200. Two-time Daytona winner Kyle Wyman will make his Daytona 200 debut aboard the #33 KWR/Millennium Technologies Yamaha YZF-R6 for the AMA Pro Daytona Sportbike season opener.
"I'm very excited to be representing Millennium Technologies again in the AMA Pro Daytona Sportbike series," Wyman said. "These guys have been behind me for quite some time now and they simply set the bar as far as passion for racing. I couldn't think of a better way to run my first Daytona 200 than to partner with them and ride this new bike."
Wyman finished fourth in his professional road racing debut in the AMA Pro Supersport series at Daytona in 2009, which today stands as his worst result on the high banks. He now enters the 2014 season as a Daytona 200 rookie with an average finish of 2.0 in four total AMA Pro starts at the famed 'World Center of Racing,' including back-to-back wins in the AMA Pro Vance & Hines Harley-Davidson series.
"Kyle has a gift when it comes to Daytona and that is why we are excited to support him for his Daytona 200 debut," said Chip Spalding, Motorsports Manager for Millennium Technologies. "Kyle will be representing the entire family of companies, including Millennium Technologies and Ballistic Performance Components. We hope that we have helped give him the tools that he will need for success on the high banks."
With the recent announcement from AMA Pro Racing that the Daytona 200 will return to an AMA Pro Superbike series event in 2015, Wyman says that there's no better time to field an entry than right now, in 2014, while it is still an AMA Pro Daytona Sportbike Event.
"I love everything about Daytona, and I've been working hard for a long time to get myself an entry in the Daytona 200," Wyman said. "However, at the same time, I wanted to do it right, with the right equipment and with experienced people. We have partnered with Neil Freeman from SBK Corse to assemble a great crew, and it's obvious that the Yamaha YZF-R6 is a legitimate weapon when it comes to the high banks. Now is the time, everything is a go and we are all eager to get out and have some fun."
Millennium Technologies is the recognized leader in high-tech powersports engine machining, including cylinder and cylinder head services. The family of companies also includes brands like Ballistic Performance Components, a manufacturer of lightweight Lithium-Ion batteries, and Revolution Performance, a manufacturer of bolt-on big-bore kits for Harley-Davidson motorcycles.
"We've been involved in AMA Pro Racing for more than 15 years now and the vast majority of the teams on the grid use a product or service from one of our companies," Spalding added. "We are committed to the AMA Pro Road Racing series and KWR is the perfect team to represent Millennium Technologies and Ballistic Performance Components in pro road racing in America."
Follow Kyle's career at http://www.facebook.com/kylewymanfans
Get your bike ready for riding season at http://www.mt-llc.com