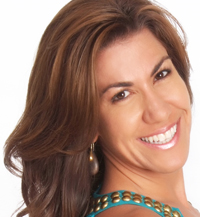 When you do them correctly, events are an exceptional opportunity to make a big bundle - while making a big difference.
San Diego, CA (PRWEB) February 26, 2014
For heart-centered entrepreneurs who want to make a contribution to the world and earn a great living doing so, events can be a powerful platform. In a recent blog post, Queen of Sales Conversion Lisa Sasevich is sharing 5 ways to monetize events – before, during and after.
"It really breaks my heart when I see hosts of large or small events stepping over thousands of dollars because they haven't built in simple ways to monetize those events," Sasevich said. "When you do them correctly, events are an exceptional opportunity to make a big bundle -while making a big difference."
In her "5 Ways to Monetize Your Events, Before, During and After" blog post, Sasevich shares:

A strategy that gives entrepreneurs "double bang" for their buck by adding value to one product or program and increasing event attendance
How to turn a profit even before the event actually happens
The 2 components of a solid marketing strategy that will convince people to invest in an event
The system Sasevich has used to build a multi-million-dollar lifestyle
And so much more.
Sasevich is sharing systems and strategies she has used herself to build her multi-million-dollar business, quickly, from the ground up, and heart-centered entrepreneurs will be able to implement these systems and strategies right away.
When they do, Sasevich said, "There is no reason that you can't see incredible profits before, during and long after your event."
Learn more about Sasevich's The Invisible Close, and read the "5 Ways to Monetize Your Event, Before, During and After" blog post, here: http://www.theinvisibleclose.com/articles/5-ways-to-monetize-your-events-before-during-and-after/
Honored as the 2013 Extraordinary Entrepreneur of the Year by Women Online Magazine, recipient of the coveted eWomen Network Foundation Champion award for her generous fundraising, and ranked on the prestigious Inc. 500/5000 list of America's Fastest Growing Private Companies for last 2 years, Lisa Sasevich "The Queen of Sales Conversion" teaches experts who are making a difference how to get their message out and enjoy massive results, without being salesy.
Recognized sales expert by Success Magazine, and as one of America's fastest growing independently owned companies for the second consecutive year by Inc. Magazine, Lisa delivers high-impact sales-closing strategies for turbo-charging entrepreneurs and small business owners to great profits. According to best-selling author Brian Tracy, "Lisa Sasevich is one of the greatest discoveries in America today!"
After 25 years of winning top sales awards and training senior executives at companies like Pfizer and Hewlett-Packard, she left corporate America and put her skills to test as an entrepreneur. And in just a few short years, Lisa created a multi-million-dollar home-based business with 2 toddlers in tow. Lisa is the undisputed expert on how to make BIG money doing what you love.
For more information about Sasevich and The Invisible Close, visit http://www.LisaSasevich.com.