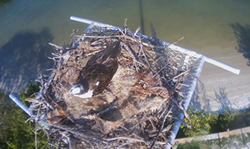 We love sharing this experience and are extremely excited about the upcoming hatchings of 3 new chicks.
Fort Myers Beach, Florida (PRWEB) February 25, 2014
Pink Shell Beach Resort & Marina teamed up with Lee County Parks & Recreation in 2013 to improve the quality of life for long-term resident ospreys while also providing the public a "birds eye" view with a new, state-of-the-art "Ospreycam." Now, the excitement begins with Pink Shell's first, live Osprey chick hatching, expected within the next week or so.
"When Lee County decided to replace an old wooden storm-damaged nest platform, we thought it would be a great opportunity to seek permission to place a webcam on the platform," said Pink Shell Marketing Director Ellis Etter. "We have loved sharing this remarkable experience with our website visitors in cooperation with Lee County and are extremely excited about the upcoming hatchings of 3 new chicks."
The webcam, appropriately named the "Ospreycam" is live for viewers to experience the Pink Shell osprey hatchings. The live feed is viewable by visiting PinkShell.com and clicking on the Ospreycam link. When the eggs hatch, the parents brood the chicks, protecting them from extreme weather and predators. They are very diligent parents, never leaving the chicks unprotected The Osprey parents are known to be great providers of fish, hovering 30-100 feet above the sea, before plunging feet first under water, snagging the fish with their sharp talons.
"We are all concerned about the well being of our wildlife inhabitants, and with this opportunity we are able to share, in a live birds-eye view so to speak, the area's most common and well-known birds of prey," said Etter. Ospreys choose their partners for life, and typically return to the same breeding grounds in March or April before departing in late August or September. "PinkShell.com visitors will now have the opportunity to watch these chicks on a daily basis and see how they flourish in our beautiful South West Florida environment." About fifty days after hatching, the young start exercising their wings in the nest and take their first practice flights from the nest. Young Ospreys make their first migration alone, instinctively knowing where to go without instruction from parents; some Florida Ospreys are non-migratory, staying on location throughout the year.
About Pink Shell Beach Resort & Marina
The Pink Shell Beach Resort & Marina, a Boykin Management Company Property, is located on Fort Myers Beach, Florida along ¼ mile of sugar-white sands with 213 beachfront studio and condo style accommodations, overlooking the Gulf of Mexico, the barrier islands of South West Florida, Sanibel and Captiva. Pink Shell was the first resort on the beaches of Fort Myers and Sanibel, Florida to be designated a Green Lodging Property by the Florida Department of Environmental Protection (FDEP). The resort features many recreational activities in a family friendly atmosphere. For more information, please visit PinkShell.com.