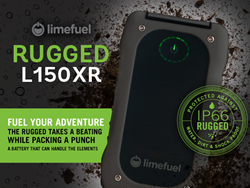 Boulder, Colorado (PRWEB) February 26, 2014
Limefuel announces a Kickstarter campaign to bring a new line of heavy duty portable batteries to the market. Their Rugged series is designed to keep up with the lifestyle of the most adventurous customers, while providing days' worth of dependable power for the devices they rely on.
For those who wish to live life to the fullest, the fragile nature of electronic devices can be a major headache. Limefuel's new Rugged series aims to provide consumers the peace of mind that comes with knowing they will have reliable power when they need it, wherever they may be. The Rugged L150XR has been certified with an IP66 rating, which offers total protection against dust or grit and a water-tight seal against powerful water jets or moderate submergence. The L150XR is also crush-proof. The battery cells are housed in a case strong enough to resist the pressure of being run over by a car without sustaining any damage or loss of functionality.
At 15,000mAh, the L150XR holds some serious juice. It can charge a GoPro HERO3+ Camera 14 times, or a handheld GPS like the Garmin Oregon 600 more than 7 times so adventurers will never miss out on capturing the most important moments of their trip, or stress about finding their way home. It features dual 2.4A output ports which can charge two devices simultaneously as quickly as if they were plugged in to a wall outlet and it supports pass through charging, so you can top off the Rugged while charging your devices.
The L150XR's touch activated power indicator gives a quick read of the remaining power in the unit without disturbing the protective seal holding back the elements. Auto-on, auto-off technology preserves battery charge for when it's needed most. The Rugged also holds a charge for up to a year making it an ideal addition to any emergency kit. Whatever your passion in life may be, the Rugged L150XR is ready to accompany you along the way. Interested parties can participate in bringing this product to market by pledging through Kickstarter.
About Limefuel
Limefuel was established in 2013 in Boulder, Colorado. The company produces cutting-edge external batteries for smartphones, tablets and other devices, maximizing battery capacity within the smallest possible form factors by pushing the boundaries of what current technology will allow. For more information, visit http://www.limefuel.com. If you have any questions about our company or product, please contact us at support (at) limefuel (dot) com.