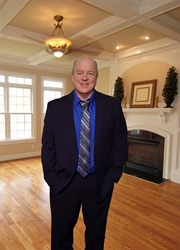 Real Estate In Maine With Dave Deschaine.
South Portland, ME (PRWEB) February 27, 2014
Great News - After 30 years of the home-improvement business, David Deschaine has now passed his state exam and is now a Real Estate Agent in Maine.
Working on homes for 30+ years, David will bring his expertise to new homeowners or home sellers that are looking to work with an experienced person that has been in the industry for this long of a time.
Dave is now working with Better Homes & Gardens Realty The Masiello Group in Gorham Maine and will be working in the southern Maine area to help homeowners find a new home, or help existing homers homeowner sell their home.
Dave said he is "still keeping his roofing and home improvement business." He's just adding this is a secondary because he always wanted to be a real estate agent.
Dave has an impeccable reputation in the southern Maine area, and he is very excited about bringing his expertise into the real estate business with also marketing, and he will use his local Maine connections to help launch into the real estate business.