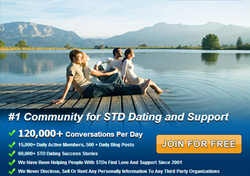 Los Angeles, CA (PRWEB) February 28, 2014
PositiveSingles has released the results of its latest survey of its members. This time, the popular dating site asked its members who suffer from herpes simplex virus to share the symptoms they experience during a breakout. Because each person with HSV has different symptoms, sharing stories of symptoms helps other people to identify symptoms when they experience something new. PositiveSingles compiled all the symptoms and released the results.
A very common symptom of herpes is itching or tingling around the genital area or anal region; 46.37 percent of members reported experiencing this symptom. This is one of the most common symptoms of HSV.
Small blisters that break open and cause painful sores were reported as a symptom by 29.63 percent of the members who responded to the survey.
Cracked or red areas around the genitals without pain or itching is a symptom of herpes that is experienced by 10.38 percent of the members with herpes.
Another symptom of herpes is headaches or backaches; this was experienced by 9.77 percent of the respondents. Because the herpes simplex virus lives in the nerves, sometimes the nerves that run through the infected regions also run to other areas of the body, causing pain in those areas, too.
Flu-like symptoms were reported by 3.86 percent of the members who took the survey. These symptoms include fever, fatigue and swollen lymph nodes.
In addition, 46.32 percent of the members with herpes reported experiencing more than one symptom at a time. For example, the symptom of itching or tingling may be accompanied by small blisters or sores or the symptom of headache may be accompanied by a fever.