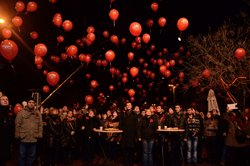 This Khojaly commemoration event is not just for Azerbaijan, it is for the whole Turkish community, who share this heartbreak.
(PRWEB UK) 26 February 2014
The victims of the Khojaly Massacre in Azerbaijan have been remembered with a moving tribute in Ortakoy Square, Istanbul, organised by the Turkish office of The European Azerbaijan Society (TEAS) on 25 February. This commemorated the loss of the lives of 613 civilians who died that fateful night of 25–26 February 1992. This was the worst single incident of the Armenian–Azerbaijani conflict over Nagorno-Karabakh.
The commemoration evening, attended by hundreds of people, culminated in a simple, yet poignant act, with 613 special light balloons being simultaneously released by Istanbul residents into the night sky over the Bosphorus – one for every man, woman and child killed in the tragedy.
During the event, Rena Rzaeva, Istanbul Representative, TEAS said: "Khojaly is a painful memory in Azerbaijan's history. Although we cannot travel back in time and undo the injustice that was caused, it is our duty to remember this. It was not just Azerbaijani land that was lost during that tragic night – it was homes, childhood memories and people's hopes. Altogether 63 children, 106 women and 444 men lost their lives. These are not just numbers – these are people. They are mothers and fathers, sons and daughters, and dearly loved ones. All those who died left behind family members and close friends who still carry these emotional scars. For them and the Azerbaijani nation, the nightmare of Khojaly will stay in their hearts and minds forever."
Defne Sarisoy, Turkish TV personality and presenter, added: "Khojaly, the second largest city in Nagorno-Karabakh, witnessed the most brutal massacre in Azerbaijani history. This Khojaly commemoration event is not just for Azerbaijan, it is for the whole Turkish community, who share this heartbreak. May I thank TEAS for organising this Khojaly commemoration evening."
Khojaly survivor Khazangul Amirova, who lost both her parents and sister, told her personal story in a very moving testimony. Reducing many audience members to tears, she recalled: "Armenians killed my mother that night. When they surrounded us, they took us as captives and brought us to Askaran. They continued to fire on us as we walked, despite there being many children and women amongst our crowd. One of the bullets hit my five-year-old sister, who I held in my arms as she fell. I wanted to raise her, but she was dead. The Armenians tied down my father. They brought me to him and I saw as they poured kerosene on him and burned him alive before my very eyes. Even though it is with great pain I speak tonight, it is important that I share this with you."
The event also comprised live traditional music from the Natig Rhythm Group who prepared a special unique Khojaly musical performance. There was also a digital exhibition of photos taken during and immediately after the Khojaly Massacre and a special video cinema screened footage of Khojaly and personal testimonies from Khojaly survivors.
It was most fitting that Orkatoy Square played host to the event, as this has historically been amongst the most cosmopolitan areas of Istanbul, with Islamic, Jewish, Orthodox and other Christian places of worship coexisting in a spirit of harmony.
The Nagorno-Karabakh conflict remains unresolved, with around 18 per cent of Azerbaijani territory remaining occupied by Armenia, despite four UN Security Council resolutions demanding the withdrawal of Armenian armed forces from the occupied territories. This has led 875,000 people to remain as Internally Displaced Persons (IDPs) and refugees in camps across Azerbaijan for 20 years.