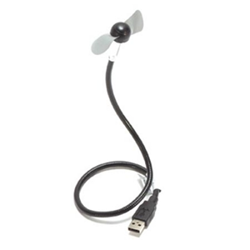 (PRWEB) February 27, 2014
Hiconn Electronics is a leading provider of high end devices. Recently, the company has happily announced its new range of USB Powered Portable Fans. Also, it has launched a promotion for all its useful fans. Currently, the new items are offered at discounted prices, up to 26% off.
As one of the industry leaders, Hiconn Electronics insists on offering practical fans for distributors throughout the world. It has a team of kind specialists who have been working in the electronics field for a long time.
Some features of the company's USB Powered Portable Fans are as follows:
--USB Powered Portable Fan with soft and safe nylon blades.
--Compact and lightweight, USB Fan fits easily into notebook case.
--Soft and safe nylon blades circulate steady stream of cool air.
-- Flexible gooseneck for easy positioning.
--Soft metal-neck length: 400MM
--Power mode: USB bus power.
--Rotatable in all directions.
--Plug & Play, USB Port.
In addition, all the company's brand new fans are featured with good shapes and outstanding performance. Each of them is designed by top experts who are capable of making almost all kinds of useful products. It is worthy to mention that the shopping of high end devices at the company's online shop is a great experience. Its online workers are always kind and patient.
About Hiconn Electronics
Hiconn Electronics (Shenzhen Hiconn Electronics Co. Ltd.) is devoted to designing and manufacturing a wide range of connection cables and customized cable assemblies, offering many HDMI cables, VGA cables, SATA cables, USB cables, 1394 cables, DVI cables, SCSI (Small Computer System Interface) and more. For more information, please visit http://www.hiconn.net/.
Contact Person: James Yin (Sales Director)
Company Name: Shenzhen Hiconn Electronics Co., Ltd.
Address: Shenghua Building., Xixiang Road., Baoan District, Shenzhen, Guangdong Province, China
Zip Code: 518102
Tel: +86-755-8109 8345
Fax:+86-755-2779 3497