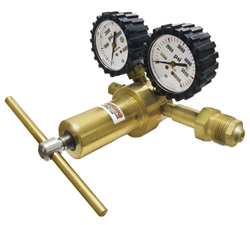 Quality Tools That Go to Work With You
Fort Lauderdale, Florida, USA (PRWEB) March 10, 2014
Proudly made in the USA, with brass body and bonnet, and easy to read 2" single scale gauges, Uniweld's new RHP3680 is the tool to use in pressure vessel testing and in the aviation industry.
The RHP3680 comes with a CGA680 inlet for connecting to high pressure cylinders, a ¼" NPT Female outlet connection, and a delivery pressure of 200-3000 PSI.
Additional Features include:

Piston Actuated Seat provides years of trouble free service
Porous Metal Inlet Filter
Fine Mesh Filter Screen between inlet and seat
Extra Long T-Handle for ease of adjustment
For more details, contact Uniweld or visit page 85 in the welding catalog.
Uniweld Products, Inc. has manufactured quality welding and cutting equipment at its factory located in Fort Lauderdale, Florida U.S.A. since 1949. Refrigeration manifolds & hoses, vacuum pumps, tubing tools, nitrogen kits, cutting torches, welding handles, cutting attachments, pressure regulators, pressure gauges, cutting tips and welding tips are among the products manufactured at Uniweld's factory in Fort Lauderdale. Uniweld provides "Quality tools that go to work with you.®"