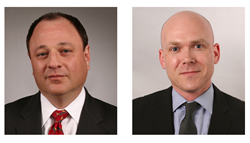 Chicago, IL (PRWEB) February 26, 2014
Neal Gerber Eisenberg partners Terry D. Weissman and Christopher D. Mickus recently prevailed before the Supreme Court of Illinois in a landmark decision by the Supreme Court applying the six-year statute of repose governing claims against attorneys to a case commenced by a non-client arising from the performance of professional legal services.
In a decision dated February 21, 2014, the Illinois Supreme Court held in Evanston Insurance Company v. Riseborough (2014 IL 114271), that the six-year statute of repose governing claims against attorneys, 735 ILCS 5/13-214.3, is not limited to claims by clients for legal malpractice but also governs claims by non-clients for any claims arising from the attorney's performance of professional services. The Supreme Court's decision reversed the Appellate Court's holding in this case, reinstated the dismissal by the Circuit Court, and refused to follow a series of other appellate rulings issued over the years that held that the six-year repose period applied only to claims by clients against their own attorneys for legal malpractice. Prior to the Supreme Court's decision, claims by non-clients against another's attorney arising from the attorney's performance of professional services were not limited by the six-year repose period governing claims by clients.
Weissman and Mickus represented the prevailing defendants, and Weissman argued the case before the Supreme Court last May. This marks the end of a contentious 6.5 year battle in which Weissman and Mickus have represented Riseborough, as well as Riseborough's former partner and law firm.
Weissman and Mickus are partners at Neal Gerber Eisenberg and each has represented clients in state and federal courts throughout the country, as well as in arbitration and other forms of dispute resolution.
ABOUT NEAL, GERBER & EISENBERG LLP
Neal Gerber Eisenberg is a Chicago-based law firm whose lawyers share a culture of teamwork and devotion to personalized client service to advance clients' business interests throughout the U.S. and beyond. Our lawyers provide legal business solutions to public and private entities of all types in connection with domestic and global business transactions and litigation. Our client base reflects a number of Fortune 100 companies, financial institutions, nonprofits and high net-worth individuals. Although the firm has one office in Chicago, it represents clients throughout the world. A steadfast devotion to our single-office concept ensures that our clients will never get lost in a shuffle of thousands of lawyers or multiple worldwide offices. With nearly 165 attorneys, the firm is suited to handle nearly any legal matter, yet small enough so clients personally know the lawyers accountable to their matters.