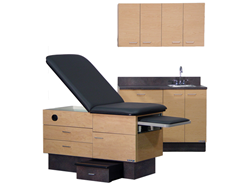 Wright City, MO (PRWEB) February 27, 2014
Goodtime Medical announces the addition of Complete Custom Exam Rooms, from cabinetry to exam tables and computer desks. There are multiple color options to choose from to make that exam room yours.
Research reveals that specific design changes in healthcare environments can reduce stress and alleviate the consequences of that stress. An aesthetically pleasing environment will help alleviate stress on the patient in the doctor's office making them feel more comfortable and more relaxed. This can also help prevent medical errors while improving staff morale and efficiency.
Goodtime Medical is located in Wright City Missouri, just outside St. Louis Missouri and has been in business since 1996. For more information about the tables and Goodtime Medical, please visit the website at http://www.examtables.com or call at 888-386-8225.