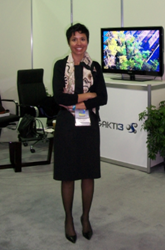 We are confident that she will be an integral partner in spearheading Powerstorm Capital's objectives in deploying a simple, yet revolutionary, hybrid power storage solution for the telecommunication and energy utilities industries in emerging markets.
Rancho Palos Verdes, CA (PRWEB) February 26, 2014
Powerstorm Capital Corporation (OTC:PSTO) CEO and President, Mike J. Freni, today announced that Dr. Ann Marie Sastry has accepted her appointment to Powerstorm Capital Corp.'s inaugural Board of Advisors, to serve an initial one-year term.
Dr. Sastry is CEO and co-founder of Sakti3, an advanced battery company commercializing a breakthrough, high performance, low-cost and intrinsically safe solid-state technology. She brings over 25 years technical and leadership experience as an entrepreneur, inventor and educator to this role. Under her leadership, Sakti3 has been recognized for its innovative approaches with several technical and business awards, including recognition in MIT's Technology Review as one of the World's 50 Most Innovative companies (2012) and winner of the World's Top Ten in the Energy Category (2011).
Prior to leading Sakti3, Dr. Sastry was the Arthur F. Thurnau Professor of Engineering at the University of Michigan. Tenured and promoted early, she founded and led two research centers in batteries and bioscience, and a global graduate program in energy systems engineering. Her laboratory originated the technical work that underpins the Sakti technology, which enjoyed continuous funding for nearly 20 years. Dr. Sastry holds a Ph.D. and M.S. from Cornell University and a B.S. from the University of Delaware, all in Mechanical Engineering.
She joins New York Stock Exchange technology expert Andy Booth, who joined the Powerstorm Capital Corp. Board of Advisors in December 2013.
Powerstorm Capital Corp. services the telecommunication industry emerging economies, primarily in sub-Saharan Africa, the Middle East, China and South America. The company's core business consists of providing turnkey region-specific hybrid power solutions to its customers – from hardware procurement, installation and on-going maintenance and technical support. It also procures and installs base stations, backhaul systems, repurposes decommissioned telecommunication equipment and provides around-the-clock management and technical support services.
"I am thrilled to welcome Dr. Sastry to our Board of Advisors. We are very impressed with her work in developing the next generation energy storage solutions for the automotive industry, among her many outstanding accomplishments. As she is expert in developing durable, high-power, low-cost solutions for the fast growing automotive; we are confident that she will be an integral partner in spearheading Powerstorm Capital's objectives in deploying a simple, yet revolutionary, hybrid power storage solution for the telecommunication and energy utilities industries in emerging markets," Freni said.
"Powerstorm Capital's team and experience are needed in this space, to bring efficient power systems to emerging economies through fast productization of advanced technology. I am pleased and honored to be a part of the team," said Sastry.
Powerstorm Capital Corp. (http://www.powerstormcapital.com) maintains offices in Hong Kong, New York as well as an operational hub in The Netherlands, headed by Powerstorm Capital Corp.'s president, Anna-Maria Pruteanu, who spearheads the company's technical and operations teams throughout the NEMA territories.
Powerstorm plans the launch of its In-the-Box TM hybrid power solution in 2014 and other proprietary technologies in 2015 to enhance its existing energy-efficient, Opex-reducing mobile tower energy management and storage solutions.
Powerstorm's In-the-Box TM hybrid power solution includes a maximally optimized, energy-efficient cooling system contained and proportionately faster-charging batteries and comes with an installation and maintenance package. The system integrates flawlessly with solar cells and wind or diesel generators – providing substantial cost reduction to telecommunication and data center operators – with minimal environmental impact and no down time.
This release contains forward-looking statements concerning market developments for our products and corresponding value propositions for our customers. These forward-looking statements reflect Powerstorm's current expectations as contemplated under section 27A of the Securities Act of 1933, as amended, and Section 21E of the Securities Exchange Act of 1934, as amended. Any such forward-looking statements are based on Powerstorm's assumptions relating to its financial forecasts and expectations regarding its product development efforts, manufacturing capacity, and market demand.
These statements involve risks and uncertainties that may cause Powerstorm's actual results to be materially different, including general economic and regulatory changes, detrimental reliance on third parties, successfully achieving our business plans and achieving and sustaining profitability. For a detailed discussion of these and other risk factors that could affect Powerstorm's future performance, please refer to Powerstorm's most recent Annual Information on Form 10K. Readers should not place undue reliance on Powerstorm's forward-looking statements and Powerstorm assumes no obligation to update or release any revisions to these forward looking statements, other than as required under applicable legislation.
For more information, please contact Milena Rimassa at milena.rimassa(at)gmail(dot)com.