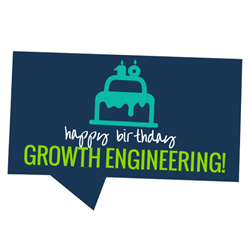 Our growth rate is outpacing our competition and our mission to deliver learning to 10% of the world's population in the next 10 years is in our grasp.
Windsor, UK (PRWEB UK) 27 February 2014
Growth Engineering, a Learning Technologies company with the world's best gamified Learning Management System, is celebrating ten years in business.
Growth Engineering's success as a UK home-grown business in an industry of US funded big-hitters has been recognised with numerous prestigious industry awards over the years, including Brandon Hall Gold Awards, E-Learning Awards and BESMA nominations. This year, Growth Engineering's Learning Management System was ranked in Craig Weiss's LMS list as the best in Europe and number one in the whole world for an LMS with gamification features.
Juliette Denny, Managing Director, said: "As a non-VC-backed business, we've done exceptionally well. Over the last 5 years we have been growing by 50 to 100% every year and are proud to say we have a 100% retention rate due to the fantastic working relationships with all our clients. It's an incredible achievement to build a platform from scratch and to take the title of world's best gamified Learning Management System is an incredible achievement – it feels like a David and Goliath-sized win for us as a company."
The company initially came into existence to sell sales consultancy services. Through Growth Engineering's work with entrepreneurs and high-profile business managers, it quickly became apparent that what was lacking in the world of business was a way to engineer organisational growth – and so Growth Engineering's high-functioning platform came into existence.
Before long, clients were using the platform to assess their staff and train their people. This was Growth Engineering's 'Eureka!' moment, and the company began work on a Learning Management System; a portal for people development.
Over the years, Growth Engineering has had the chance to work with some fantastic clients, like Bensons for Beds, Zoopla, Azlan and Spicers, and has partnered up with the Institute of Sales and Marketing Management and the Institute of Leadership and Management to offer valuable, high-quality qualifications.
Juliette added: "Here's to the next ten years! I know it will be tough, but it will be a whole lot of fun too! There is no doubt that the best is still yet to come. Our growth rate is outpacing our competition and our mission to deliver learning to 10% of the world's population in the next 10 years is in our grasp."
ABOUT: Growth Engineering are the arch-enemies of dull online learning. We work towards challenging every preconceived notion of eLearning to establish a new and refreshing experience for learners. We aid and inspire learning by creating innovative learning designs and using modern technologies. Our gamified Academy Platform and game-based learning creates all-new levels of engagement and we also offer a library of Ofqual-recognised qualifications to help our learners pump rocket fuel into their professional development. In short, we want to make your learning journey as easy and rewarding as possible.
If you'd like to see what we've been working on for the last decade, join our Academy Tour: http://info.growthengineering.co.uk/rsvp-academy-tour.
CONTACT: For more details, please contact: harry.cloke(at)growthengineering(dot)co(dot)uk or phone the office on 01753 840 331.
Website address: http://www.growthengineering.co.uk