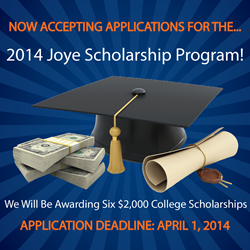 The 'Joye in the Community' scholarship program was founded eight years ago and has awarded over $100,000 in college scholarships
Charleston, SC (PRWEB) February 28, 2014
The Joye Law Firm is now accepting applications for the 2014 'Joye in the Community' college scholarship program.
College-bound high school seniors interested in applying for one of the six available $2,000 scholarships can access information and application materials at JoyeInTheCommunity.com. The deadline for applications is April 1, 2014.
Students will be evaluated based on several factors including academic achievements, extracurricular activities, leadership skills, community involvement, personal pursuits and a required essay.
To qualify, students must submit:

A typewritten or neatly printed application that is completely filled out.
A current high school transcript.
A signed, typewritten 350-500 word essay on the following topic: One of your fellow classmates, who was driving home from a party, has died in a car crash. Two other classmates were in the car with him and were severely injured but survived. Police say that all three had been drinking alcohol and that the driver was speeding and lost control of the car. You are determined to make sure this never happens to another friend. What could you and your friends have done to prevent this tragedy? What can we, as a community, do to get the message across that drinking and driving kills?
The winners will be announced in May and scholarships will be made payable to the four-year institution of his or her choosing.
The 'Joye in the Community' scholarship program was founded eight years ago and has awarded over $100,000 in college scholarships to date.
"We started this program as a way to give back to the community, and have been extremely pleased with the response," explained Joye Law Firm's Managing Partner, Attorney Ken Harrell. "Despite having done this for almost a decade, we are continuously impressed with the talent of our young applicants. It makes us feel extremely confident in our state's future."
For additional information, visit JoyeInTheCommunity.com or contact the Joye Law Firm at 1-888-324-3100.
###
Leading by Example
To recognize the importance of giving back to the community, Joye Law Firm established Joye in the Community—a year‐round program that encompasses the firm's community and service efforts. The initiative is designed to enrich the lives of everyone involved in the program and raise awareness about the needs of those in the Clinton, Charleston and Myrtle Beach areas. Visit JoyeInTheCommunity.com to learn more.
About Joye Law Firm
Headquartered in North Charleston, S.C., Joye Law Firm has been providing legal services to the people of South Carolina since 1968. The firm of accomplished South Carolina injury and disability attorneys offers more than 130 years of combined litigation experience. To learn more, visit JoyeLawFirm.com.