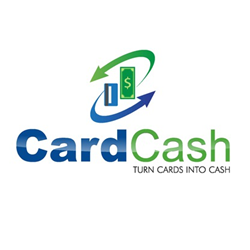 CardCash.com, the web's largest secondary git card market, will be showcasing their unique platform that allows consumers to buy, sell and trade gift cards at the upcoming All Payments Expo
Brick, NJ (PRWEB) February 27, 2014
CardCash.com, the web's largest gift card exchange, will be at the All Payments Expo in Las Vegas March showcasing the growing online secondary gift card market. The expo, the annual meeting place for payments professionals focused on areas of growth and convergence in payments, will take place in Las Vegas from March 3-5.
For the first time CardCash.com will have a booth at the expo, a booth showcasing a "cash cube" which attendees can enter and walk home with as much cash as they can grab. The cube is meant to highlight how easily CardCash customers earn cash, by selling their unwanted gift cards for a quick payout, or by buying gift cards to their favorite merchants at a discount.
Relative to the primary gift card market the secondary market is still in its infancy, but that is quickly changing. As the pioneers in the industry, CardCash.com is seeing explosive annual growth, going from doing just about $35 million in gift card transactions in 2012 to $125 million in transactions for 2013. More than $1 billion of gift cards go unused each year, and estimates place the amount of unused gift cards in America at $40 billion.
Among the highlights in 2013 for CardCash.com were: entering into a number of strategic partnerships in the secondary gift card marketplace; beginning to accept the sale of digital gift cards as the industry trends towards electronic gift cards; and closing on $6 million in Series A venture funding from Guggenheim Partners in November.
The show will give CardCash an opportunity to demonstrate to those in the primary space how partnering with the leader in the secondary market can give retailers until now untapped avenues to increase gift card revenue and monetize their product further. One such enterprise is CardCash.com's partnership with Amazon that allows consumers to receive an Amazon gift card in exchange for their unwanted gift card. The Amazon gift card includes a 5% bonus on top of the usual payout.
About CardCash.com
Headquartered in Brick, NJ and backed by Guggenheim Patners, CardCash.com presently offers the largest selection of discounted gift cards online and has the highest standards of security implemented to help streamline the sales and purchases of gift cards on the secondary market.
Cardcash.com was ranked by Forbes as the 14th most promising company in America for 2014, the second year in a row they were ranked on the prestigious list of America's up and coming companies after being ranked #85 in 2013. CardCash made the Inc. 500 list of fastest growing private companies in America two years running, ranking as #68 in 2012 and #245 in 2013.