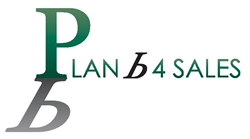 New York, NY (PRWEB) February 26, 2014
Plan B 4 Sales and Selling to Zebras (http://www.sellingtozebras.com) today announced a strategic partnership to provide business development consulting services and sales best practice methodology products to the technology market.
Selling To Zebras will complement Plan B's current offerings with the addition of a proven methodology and the tools to effectively execute. Key to the process is identifying value clients have already generated within their customer base and changing organization-wide focus to the Zebra (your perfect prospect). This is a perfect fit with Plan B's use case analytics.
A Selling To Zebras representative claims, "by focusing on prospects where customers can add the most value you can actually see a compounding effect in your sales pipeline; average deal size increase, while at the same time those deals close faster, and with a higher close rate. The salespeople specifically, are armed with tools that are tailored to the messaging a perfect prospect would relate to. This allows your average sales person to take messaging to an executive and challenge the status quo with a value-based discussion. That creates the real value. You probably already have a few great salespeople that are already doing this, but bringing the majority of your salespeople to this level is when you will start seeing the results your organization is demanding. When coupled with Plan B's strengths and experienced sales team we have an unstoppable combination. We are excited to partner with Plan B to accelerate our client's success."
Steve Mount, CEO of Plan B 4 Sales adds: "A core offering of Plan B4 Sales is our ability to get sales and management on the same page. We do not sell a cookie cutter approach so we find the uniqueclient centric customization of the Selling to Zebras product very attractive. The approach focuses on the value our clients create for their customers. The product producesvalue based presentation materials that relies on provable metrics, case studies, a business case and client testimonials that no other company can create. Most importantly, since the software provides capabilities for monitoring and managing the sales process, Selling to Zebras produces incredible metrics in reducing sales cycles, increasing close rates, increasing deal size and making the sales forecast more predictable.We are excited about the synergistic fit with the point solutions for sales enablement that Plan B brings to the table.
About Selling to Zebras:
Selling to Zebras is a sales acceleration software company that helps companies to bridge the gap between low or stagnant sales and dramatic sales growth. Selling to Zebras provides clients with training, tools, software, ongoing support and coaching at the field sales rep level. It is the only sales process improvement company that provides customer specific tools and deal level strategizing and support.
With ZEBRA selling, clients can expect to achieve at a minimum:

An increase in average deal size and annual sales of 13%
A reduction in the length of the average sales cycle by 21%
An increase in the sales pipeline monthly close rate of 102%
Contact:
Brian Gallagher, WW VP Sales &Marketing
Selling to Zebras
262-649-3849
http://www.sellingtozebras.com
About Plan B 4 Sales:
Plan B 4 Sales is a sales and marketing incubator, offering a wide array of contract sales strategy, sales enablement, go to market and brand development services. Our contract sales resources are all tenured, enterprise technology sales people with at least 15 years experience opening doors, defining client needs and closing business. Our trainers and service partners have all been delivering the services defined on our web site for at least 8 years. We are well equipped to help a start up develop an initial sales effort, or provide an existing sales force with the tools and techniques to accelerate growth and attain organizational stability. Whether you are seeking seed capital, a mezzanine round or simply preparing for the next board meeting, a Plan B 4 Sales engagement will make you much better prepared for the sales and revenue projection questions that invariably arise. We are very adept at finding low hanging fruit that delivers a lot of juice with a little squeeze.
Contact:
Steve Mount
Plan B for Sales
201-666-9298
http://www.planb4sales.com