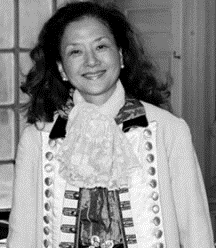 Belvedere/Tiburon, CA (PRWEB) February 27, 2014
Olivia Hsu Decker, founder and co-owner of the prominent Decker Bullock Sotheby's International Realty representing the Belvedere/Tiburon market in the San Francisco Bay Area, has rejoined the prestigious Haute Living Real Estate Network.
Haute Living Real Estate Network will continue to feature Olivia Hsu Decker as a preferred real estate professional. This unique circle of leading real estate agents presents opulent estates and extravagant properties to the affluent homebuyers looking to purchase the finest residential properties. Featuring properties with over-the-top amenities in the most exclusive locations, members of the Haute Living Real Estate Network ensure that readers are exposed to the finest that market has to offer.
About Haute Living Real Estate Network
Haute Living Real Estate Network specializes in selecting top real estate professionals, creating the most prominent directory for exceptional listings. The network website is an online destination for all real estate related news and features daily blog posts that provide up-to-date information on affluent markets and real estate developments. Access all of this information and more by visiting http://www.hauteresidence.com/.
About Olivia Hsu Decker
Olivia and her company Decker Bullock Sotheby's International Realty concentrate exclusively on the marketing of extraordinary homes – those valued from $3 million to over $35 million. She offers the most effective marketing program in the business for both quality and comprehensiveness. Decker is most experienced in handling expensive properties and has the broadest, most substantial client base for luxury homes. She consistently represents the highest level of clientele and has been featured in over 50 publications including The Wall Street Journal, USA Today, New York Times, International Herald Tribune, Sunday Times (London), San Francisco Chronicle, Robb Report, LP-Luxury Property magazine, Success magazine, W magazine, People magazine, California Homes & Design, San Francisco Business Times, Nobhill Gazette and many others. In a Wall Street Journal profile of Miss Decker, it said: "If you have a very expensive home to sell, her name comes to mind before anyone else's." The San Francisco Chronicle/Examiner described her as: "Perhaps the nation's best known residential real estate broker."
To learn more, visit Olivia Hsu Decker's Haute Residence profile.