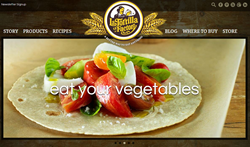 "We felt it important to present our tortillas in the context of everyday life, showing how they are the basis for healthy, delicious meals," said Sam Tamayo, president of family-owned La Tortilla Factory
SANTA ROSA, CA (PRWEB) February 27, 2014
La Tortilla Factory's newly unveiled web site, http://www.latortillafactory.com, highlights not only its nine product lines of nutritious tortillas, but visually communicates how the brand's satisfying and versatile tortillas fit into the busy lives of today's modern consumer who strive to eat both healthfully and deliciously. The responsive, user-friendly site is now optimized for tablets and mobile devices, as well.
The new web site features the full complement of product information, including nutrition facts, ingredients and usage tips. In addition, the site offers a wide range of creative recipes featuring the brand's market-leading tortilla products as well as a store locator tool for finding nearby retailers who carry La Tortilla Factory products.
"Appetizing new photos engage our online guests immediately. We felt it important to present our tortillas in the context of everyday life, showing how they are the basis for healthy, delicious meals," said Sam Tamayo, president of family-owned La Tortilla Factory. "We've expanded beyond just a list of our products and ingredients; our wholly redesigned site inspires new and creative uses for our tortillas, allowing us to connect in a new way with our consumers."
Among other features of the site is an interactive historical timeline depicting milestones in the growth of the family-owned business, and a blog by Jenny Tamayo, a member of the third generation of Tamayos to operate the business. From favorite family recipes to new product flavors, the web site vividly depicts the company's ongoing commitment to growth and quality.
About La Tortilla Factory
Founded in 1977 by Jose and Mary Tamayo, La Tortilla Factory is an innovative company now under the leadership of the third generation of the Tamayo Family. With great taste as a core value and creativity a guiding inspiration, La Tortilla Factory set in motion a national shift in eating habits early on by creating healthier, better tasting premium products. In 1991 they debuted the first fat free flour tortillas in the world, and, five years later, the first low carb/low fat tortillas. They were the first to bring to market gluten free tortillas, extra virgin olive oil wraps, and handmade style corn tortillas.
La Tortilla Factory has transformed the simple tortilla into an icon of good living, and simply a better – tastier, healthier, easier and more inspiring – way to eat anything. For more information, visit http://www.latortillafactory.com or follow us on Facebook and Pinterest.